Warning: A very long trip report follows. I apologize for taking so long to post – I've been crazy busy since we got home and then got in a non-serious car accident and had to devote most of my time to finding a new car! Anyway, I hope you enjoy!

1st day – Sunday Dec.21
• Out of the house at 4:00 am for 7:40 flight which is crazy for the Regina airport but having stopped by the airport the day before to ask a couple questions, we were informed that it's ridiculously busy weekend mornings in December.
• Missed big line up by 10-15 minutes ending up 5th in line – really glad we went early.
• Flight about .5 hour late out of Regina – taking longer than normal to load luggage – Transat Holidays Vacation but really lucky as they chartered a Westjet plane for the flight and the luggage allowance is more than double a small charter plane
• Uneventful flight – received a lunch box with sandwich, cheese and crackers - landed and didn't experience that wall of humidity we experience in the summer months but weather was great!
• Hand in bottom of form we filled in on the plane to employee at top of escalator and then down to customs. Picked up luggage and then on to red/green light area – all green!
• Took a while for luggage and people to be loaded on bus and then we were off – made one stop at Princess and then off to Palladium – greeted with a great welcome drink in lobby!
• 14 of us – 7 rooms in total – request met with 6 standard rooms in building 46 and one standard room in 47. Overall, standard rooms are pretty good – one king bed or two doubles, desk with Ipod alarm clock, armoire with television, mini bar and a coffee pot. Bathrooms pretty nice – large tub with shower wand. Toiletries included shampoo with conditioner, shower cap, soap, sewing kit, comb, shower gel. Hairdryer handing on wall.
• Everyone's room was ready but ours which was a bit of a bummer as we were dressed for the cold of Regina, couldn't wait to change and they wouldn't let us take our luggage until we got our room keys – got different stories from 3 different employees but finally, after an hour, got our room and our luggage
• Went to lobby bar – got a drink and we were off to find the White Sands buffet, stopping at every bar along the way!
• Buffet was Spanish theme – very good! Everyone could find something to eat – overwhelmed by variety. Labeling could be better to describe food so you know what you're getting as the labels simply have the name of the food – a description of the main ingredients would be very helpful. Fresh pasta bar and flambé stand great! Everyone really enjoyed the red wine.
• After supper, headed outside to catch the pontoon boat – awesome! Nice with all the lights and very relaxing! Palm trees lit up with white rope lights wrapped around were beautiful.
• Checked out White Sands bar, Secret bar and Secret pool, Sports bar, and then went to change to take a dip in the El Riconcito pool at about 8:30 or 9:00 – fun – pretty chilly but not too bad.
• Call it a night at 9:30 – going to try to get up early tomorrow.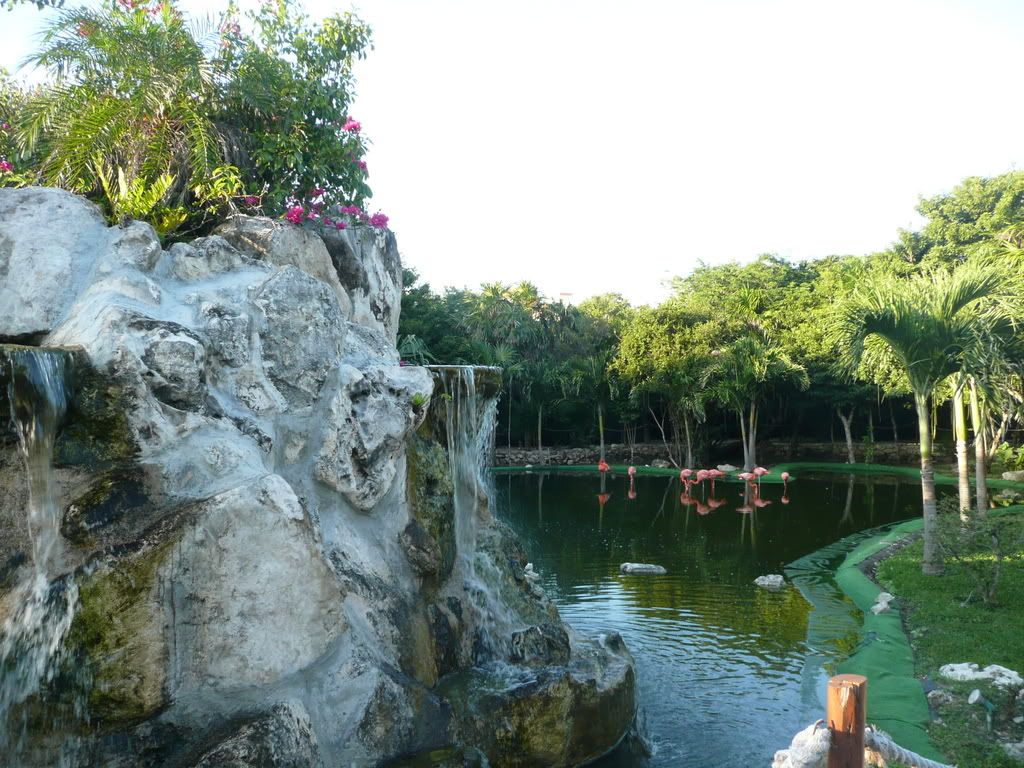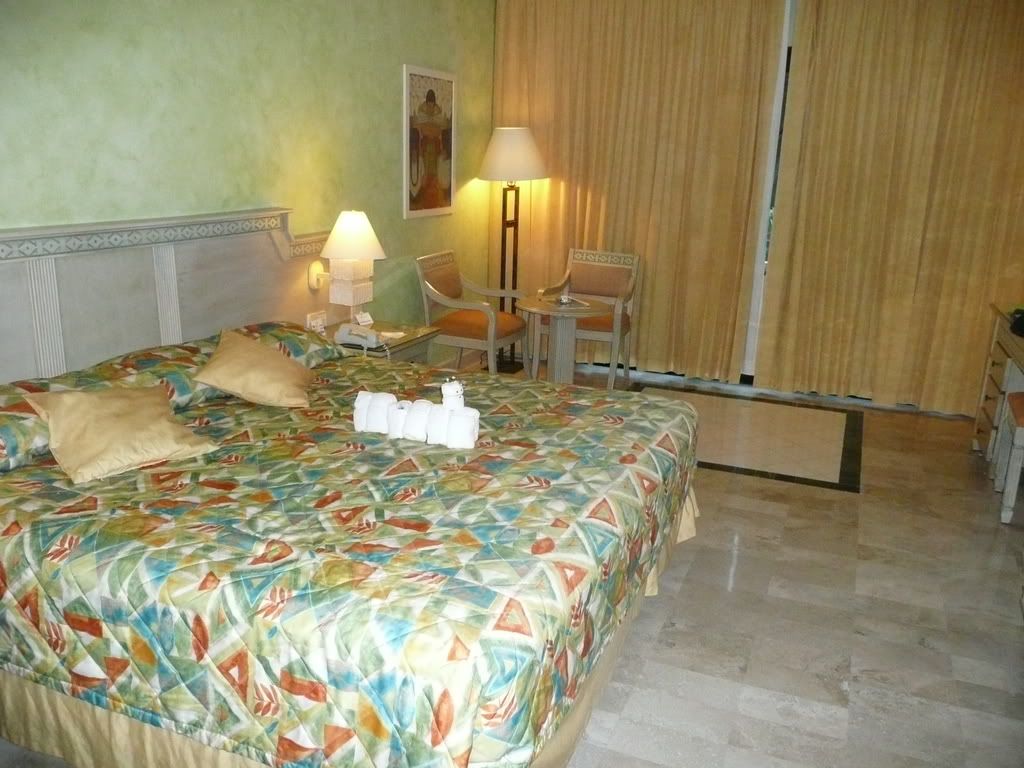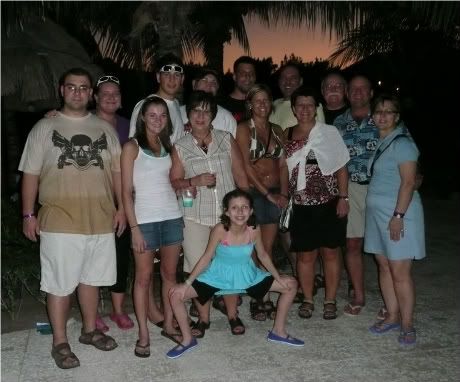 Monday, December 22, 2008

• Woke up early and headed to Kantenah breakfast buffet for 8:00
• Headed to beach – first time seeing it – yippee! Beautiful – laid down for a while – a little cloudy but mostly sunny – about 30 degrees celcius
• Tried snorkeling out front of Colonial beach – didn't see much – 1 baby barracuda and a few others but for a couple hours out there, not much overall
• Made our way to salt water pool – again not much to see but a great, sheltered area for snorkeling beginners
• Had a hoot at Pool bar – Pedro, the bartender was amazing! So funny and awesome drinks. Apparently it was a rarity for him to be there as he is normally at the bar in the Royal area.
• Made our way to Punta Emilia bar – thoroughly entertained by Virginio –what a jokester!
• Snuck over to massage/braiding booth – managed to get in for a full head braid – took 1 hour and 40 minutes – cost $130 US – definitely a good idea to get in touch with Paula from the spa to prebook spa appointments for a 5% discount – I ended up getting my voucher through email the following day and a couple days later was able to get the price changed and the price Paula included on the voucher was around $85.00 – yippee!
• Got ready for supper – after sitting in lobby for a while, it was decided to head for supper at around 7:00 - planned to go for Japanese a la carte – 1.5 hour wait – checked into other a la cartes in Kantenah and Colonial – all a fairly lengthy wait – decided we needed to plan better from now on and go earlier or go in ahead of time to get beeper
• Went to buffet – good – and then checked out vendors in Colonial – hand painting guy cool and then watched some of the Mexico competitors show and the Mexicano show.
• Time for bed – heading to Akumal tomorrow morning!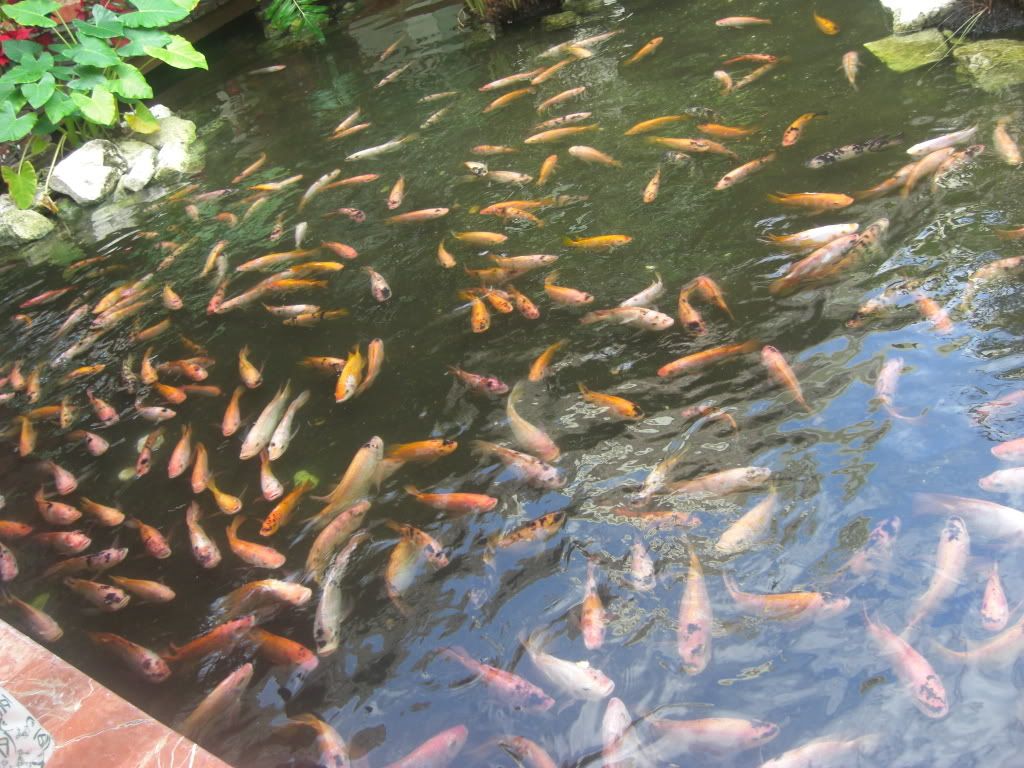 One of the many fish ponds found around the restaurants at the Resort.
Pic of the Beach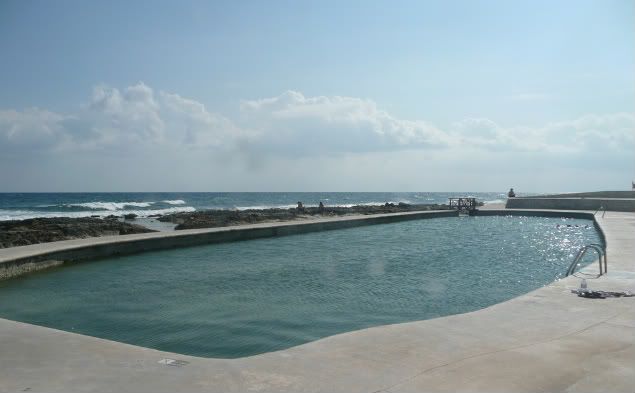 Salt Water Pool
Another view of the Salt Water Pool
Pedro was working at the Salt Water Pool the day we were there but he usually works in the Royal Area. He was so awesome!

Virginio – super funny bartender at Punta Emilia


Tuesday, December 23

• Woke up and went to Kantenah buffet for breakfast
• At 9:00 took 3 taxis to Akumal (110 pesos) one way for each taxi
• Got to golf cart rental place but had not paid deposit ahead of time and reservation had not gone through – our fault
• Took big bus cab to Yal-Ku - $20 – really great snorkeling – saw 2 huge parrotfish, and a whole bunch of other fish all over the place – very calm and beautiful – an excellent place for beginners to practice breathing if not freaked out by the fish – my husband and I have snorkeled a lot in many different places and we were impressed with the snorkeling here
• A little banana or bread and the fish swarmed
• Most of us had our own snorkeling gear – a couple rented lifejackets and gear from Yal-Ku admission stand
• Took 3 cabs back from Yal-Ku to Akumal Bay ($6.00) and found a nice place on the beach in front of Lol Ha restaurant Becky got hair braided for $40
• Wiped out walking into Akumal bay area which sucked because my foot ended up being very sore and I now have a pretty good scar on my knee – it's hard to watch where you're walking when there's so many beautiful things to look at all around you!
• Put on the snorkeling gear, followed the buoys in front of Lol-Ha and eventually came upon turtles!!!! Amazing, big and beautiful. Really neat to see them swim along, feeding as they go and then really cool when they pop up for air!
• Got in cabs to come back to Palladium ($130 pesos on way back)
• Took in the swim up pool for a while which was great but my foot was really starting to bother me – had reservation at Punta Emilia – incredibly painful to put pressure on foot – stopped at front desk and got tensor bandage.
• Took train to White Sand lobby, and then Jaun (wonderful concierge) drove us directly to Punta Emilia seafood a la carte when he found out my foot was terribly sore.
• Punta Emilia was okay (parents liked it more than the 28 and under table for sure) One person in group had Lobster ($35). The garlic prawn appetizers were good.
• Beautiful setting on beach – wind blockers helped a lot on what was a very windy night
• Hubby and I came back to room right after supper to ice and elevate foot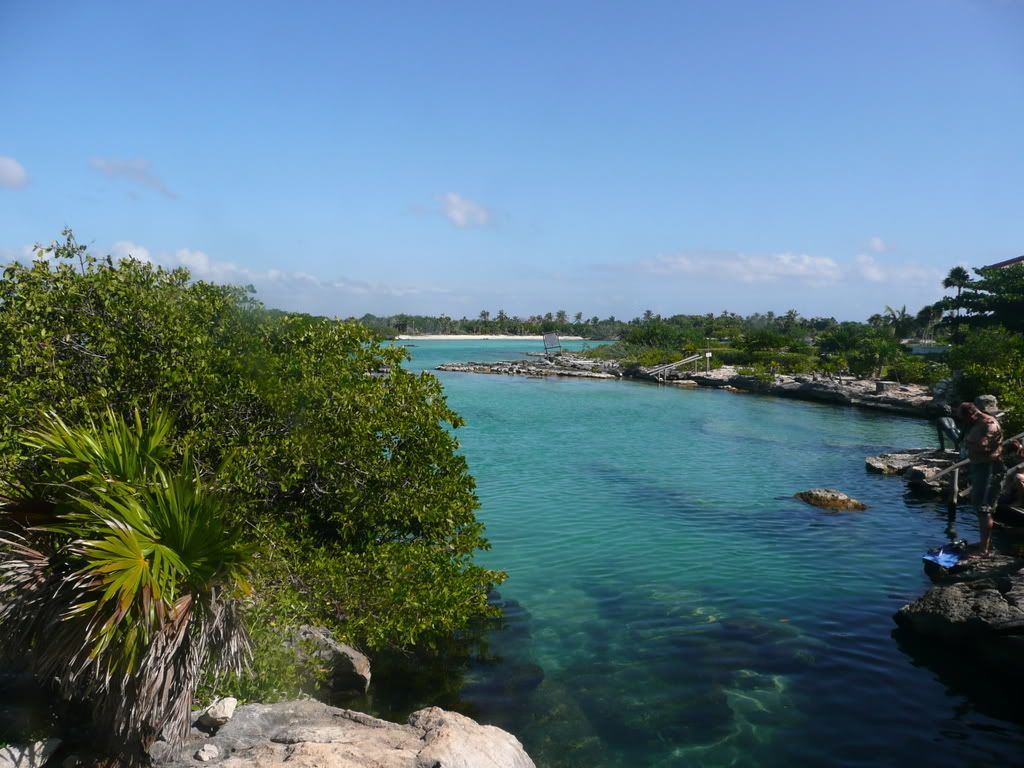 A pic at Yal-Ku Lagoon
A parrot fish at Yal-Ku
Yal-Ku snorkeling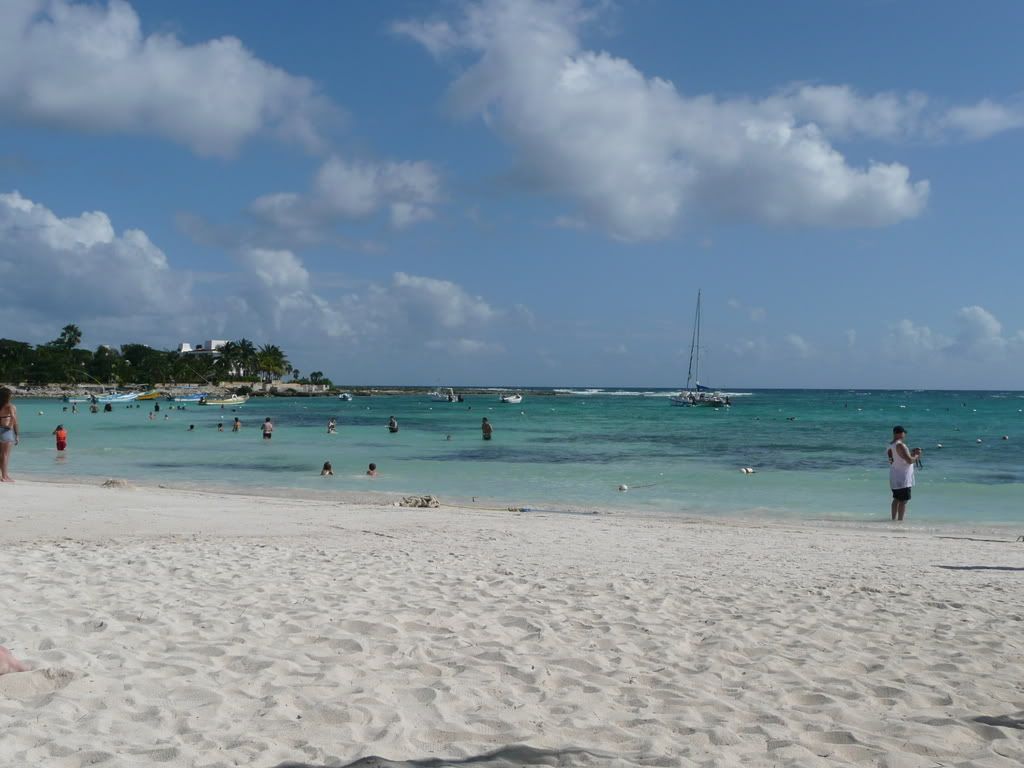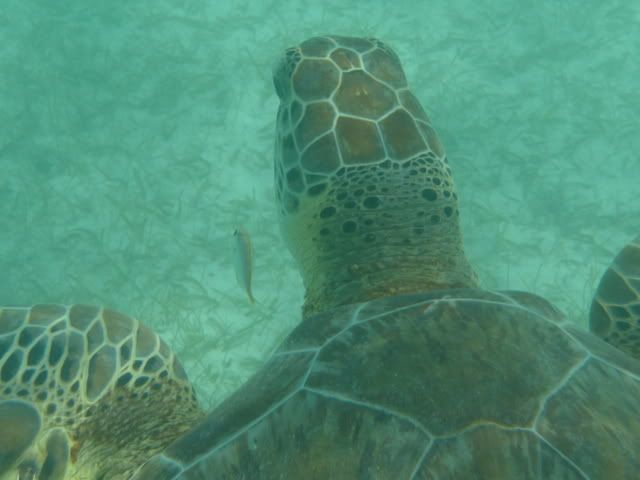 One of the turtles in Akumal Bay
It was SO cool when the turtles came up for air!
Another Akumal turtle

Back at the Palladium – Colonial swim-up bar


Wednesday, Dec.24

• Sat on balcony for a while with foot iced and elevated
• Went to Colonial buffet for breakfast (same as Kantenah) but open a little later
• Hopped in cab and went to visit brother and girlfriend in Puerto Aventuras marina. They're staying at the Catalonia Riviera.
• Walked around dolphin pens for quite a while (we have seen several dolphin swim locations over the years but was impressed with professionalism at Dolphin Discovery here in Puerto Aventuras)
• Loved watching the sea lion demonstration – incredibly cute and intelligent animals!
• Baby dolphin in one of the tanks so cute!


• Met my brother and his girlfriend at Gringo Dave's for lunch – food was okay and we had a great visit. After, we spent time shopping before heading to Catalonia where they took us on a tour of the resort. It was pretty nice – much, much smaller than Palladium so not as many options for entertainment, food, etc.
• Came back to Palladium and went to beach for a while - windy again and fairly large waves that many were using to body surf
• Back to room to get ready for supper (Christmas Eve gala dinner buffet)


• Buffet – stunningly beautiful and exciting! 10 or more people so we got to make a reservation which was really nice because lines did start to form around 7:00

Just as we walked in to the buffet at the Kantenah
• Walked in and received a very festive glass of wine filled with a few fruits and all the women received a red rose. They had Feliz Navidad as an ice sculpture and many other ice sculptures, fruit sculptures and decorations.


• Food was incredibly varied and tasty – our group particularly enjoyed the grilled lobster over and over again. William had 6. The chocolate fountain was great!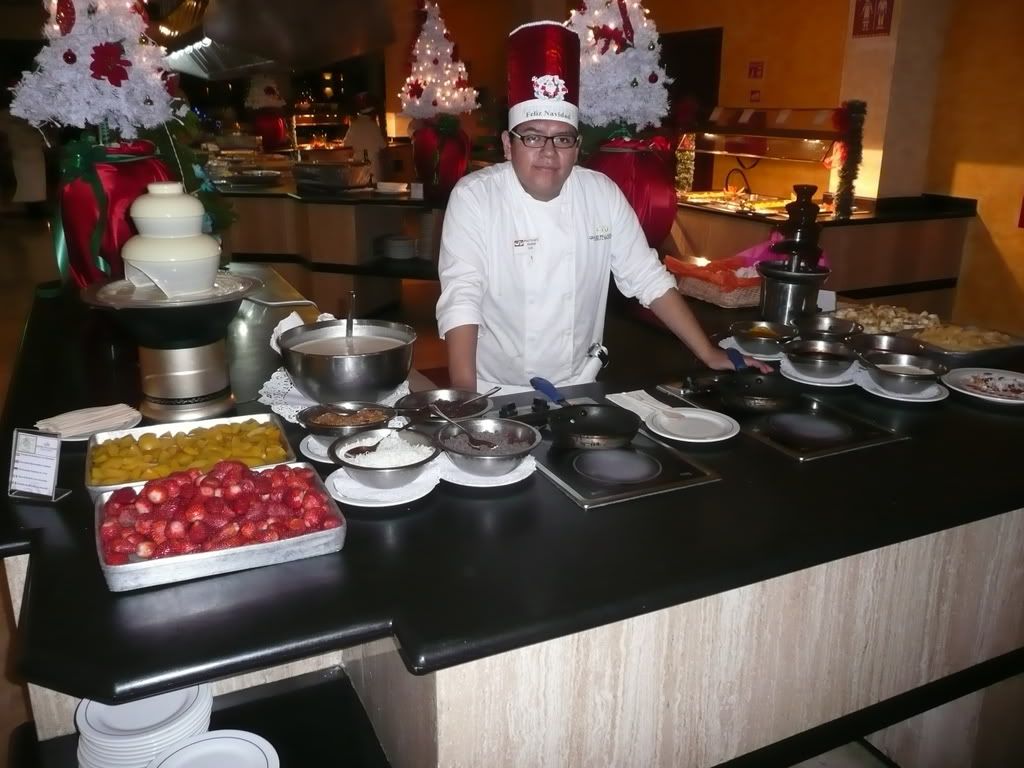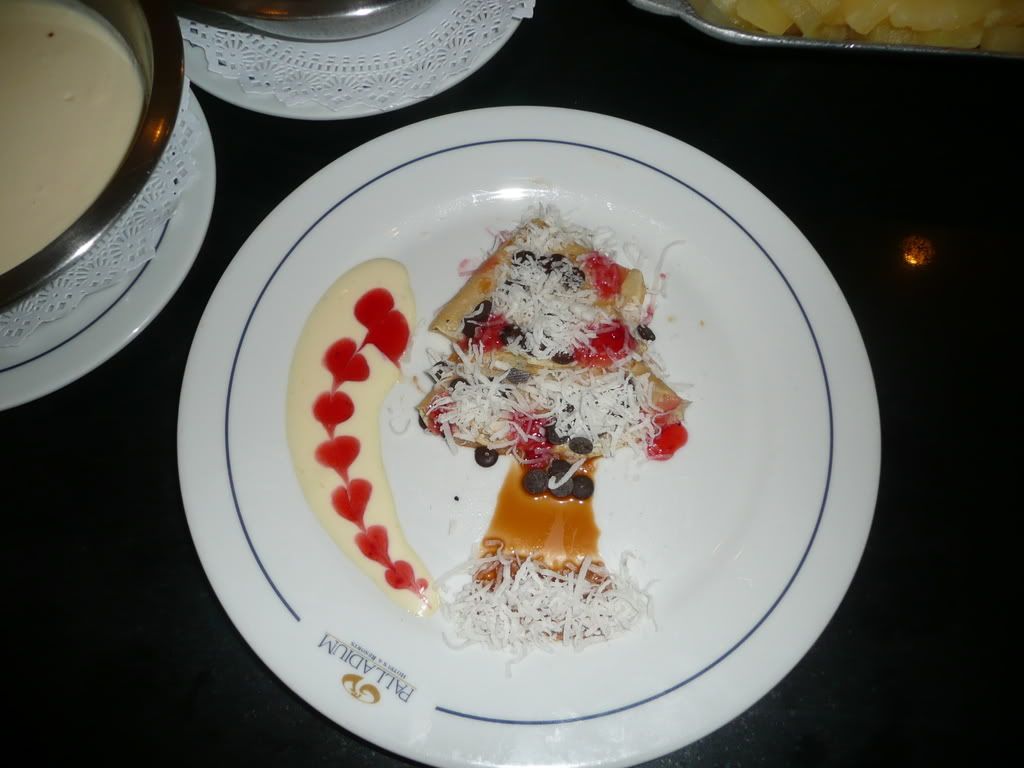 • After supper, hung out in Kantenah lobby before making our way into an empty Hemmingways to play a family game of Balderdash that we brought with us.
• Great night!






Thursday, December 25th – Christmas


Decorations in front of Colonial lobby
There were lots and lots of poinsettia's around.
• Beautiful day! Woke up for a light breakfast – dad treated himself to a glass of champagne!
• Went to guest services in Colonial to book Beach BBQ reservations for tomorrow night. Also booked Rose Petal bed decoration for S and W's 25th anniversary ($35 US). Guest services lady was so incredibly sweet – I wish I could remember her name.
• Made our way to Colonial pool where we spent a fabulous day. Used the swim up bar, played in the fun team pool volleyball game, water aerobics and then got a family game of water volleyball going for at least an hour – great fun!
Colonial Pool Volleyball net
• Watched the staff vs. guests Beer drinking contest – unreal how fast some of those guys can down a beer!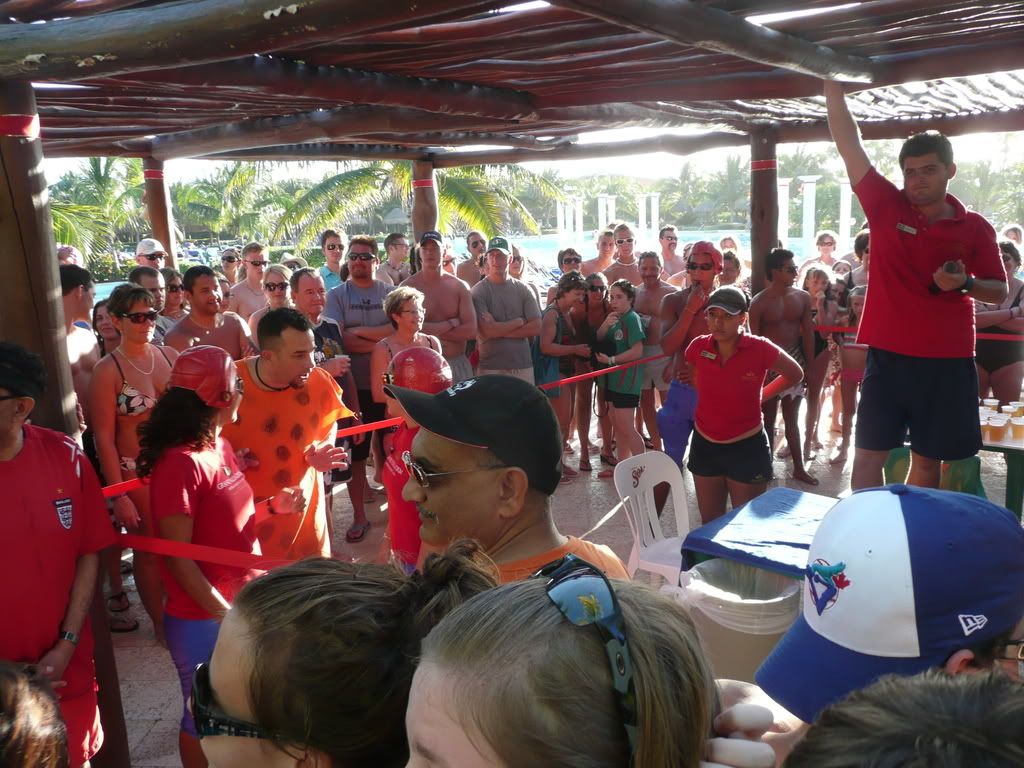 • Came back to the room to get cleaned up and ready for an early supper at Sumptori. Went at 5:30 – 10 of us sat at show table and 4 at a regular table – amazing supper! Brought out tempura shrimp and spring rolls shortly after we were seated, then a selection of sushi rolls, then soup, then rice, then meats and veggies
• Spent rest of evening hanging out and drinking in Kantenah lobby – really enjoying bartender Valentine (Ugh-Ugh!) and waitress Betty (so cute!)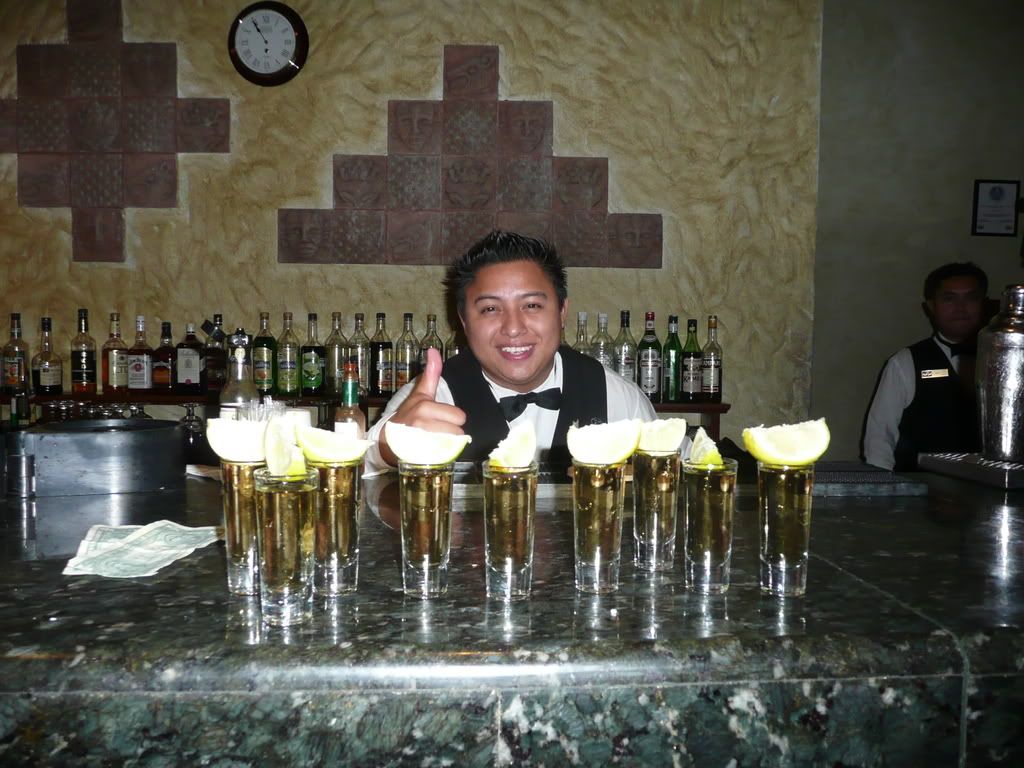 Valentine
Betty
• A few people went over to the Colonial theatre to get pictures with Santa and to watch the show which was pretty good.

One of the Christmas trees in the Colonial Lobby

Friday, December 26, 2008

• Starting to get into a bit of a routine and lovin it! Found some sunscreen for my face ($17 for the littlest tube you've ever seen!) in the resort store and made our way to breakfast


A picture at the Kantenah gift shop
• Spent a bit of time at Colonial pool playing ping-pong, chilling out and waiting for snorkeling tour
• Fun team snorkeling tour a disappointment. It probably would have been much better on another day – today it had just turned from a red flag to a yellow flag and it was very wavy, they make you wear life jackets and it was difficult to make much forward progression. Finally got quite a ways out and unfortunately we saw very little. One of my cousins saw 1 stingray and we saw a couple fish.
• Made our way over to the rest of the family who were hanging out on the beach by Punta Emilia – spent time hanging out with them and they told us about the great snorkeling right in front of them. Went to check it out and wow – much better! First of all, much easier entrance into the water than on the tour but water shoes still definitely necessary as it is a coral bottom – head towards the dark spots in the water where the large rocks/coral are located and there were hundreds of fish. The other cool thing for the non swimmers in the group is that you can walk the whole way – great snorkeling at chest depth while still standing up! Not a fabulous variety of fish but several kinds and lots of them.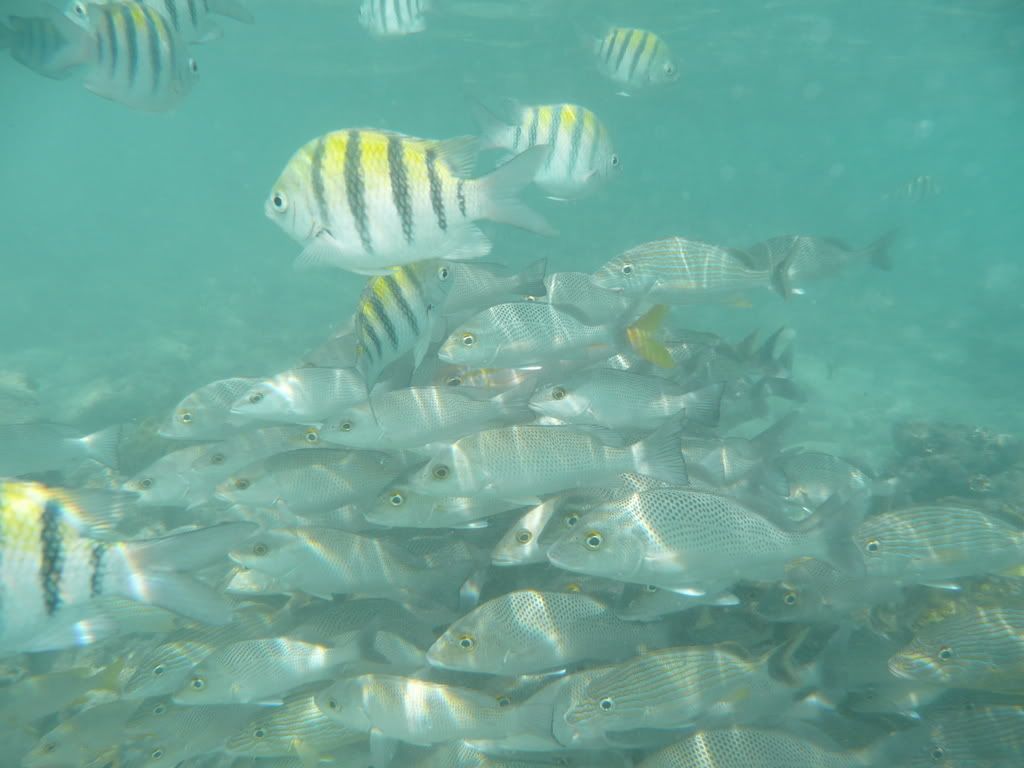 • Made our way to White Sands pool – I personally like it much more than Colonial – not as deep, an even surface on both sides for water volleyball and much quicker to get to the swim up bar because you can walk instead of swimming!
• Spent a few hours here before walking over to White Sands lobby to catch pontoon boat and went for a little cruise around to check it out during the day – again, very enjoyable and a chance to see parts of the resort from a different perspective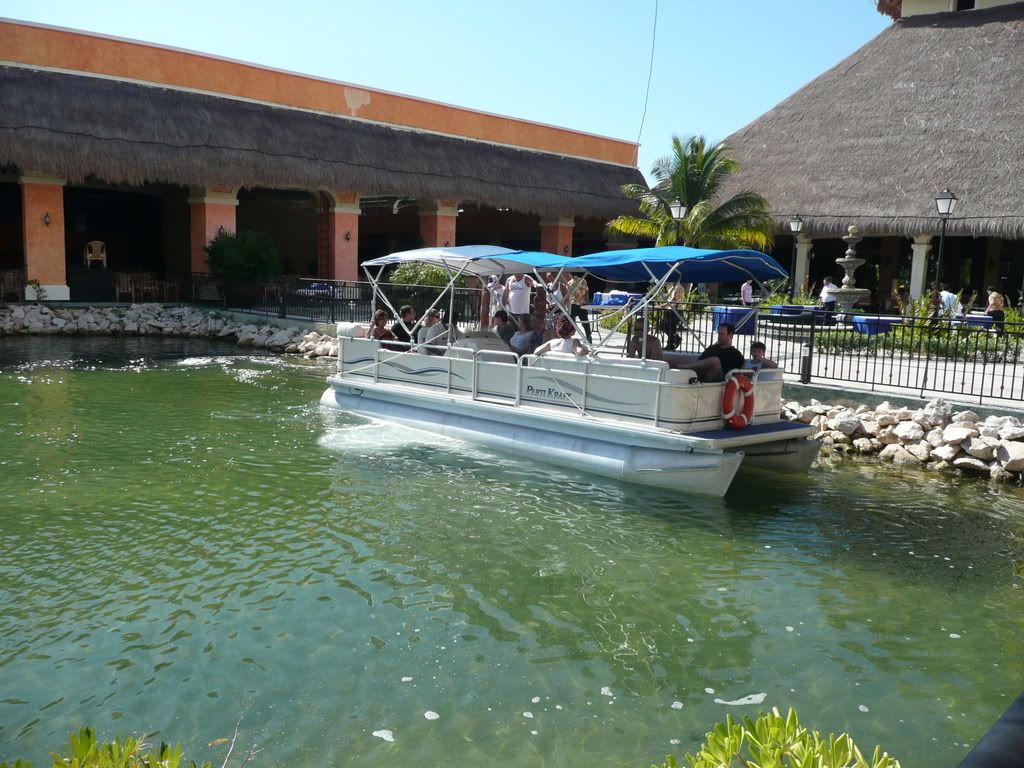 • Took the train back to Kantenah to get ready for beach bbq
• Beach BBQ was great! Beautiful setting – it's amazing how they transform areas in short amounts of time. Tables on the sand, chairs with elegant white covers, very pretty. This was my dads favourite so far for supper as he enjoys more simple food and he really enjoyed the pork and beans, and the ribs. Chris liked the beef the best and Tim liked the pork the best. Overall, all the big meat eaters were very happy! They also had chicken, burgers, sausages, salad, buns, potatoes and great corn on the cob!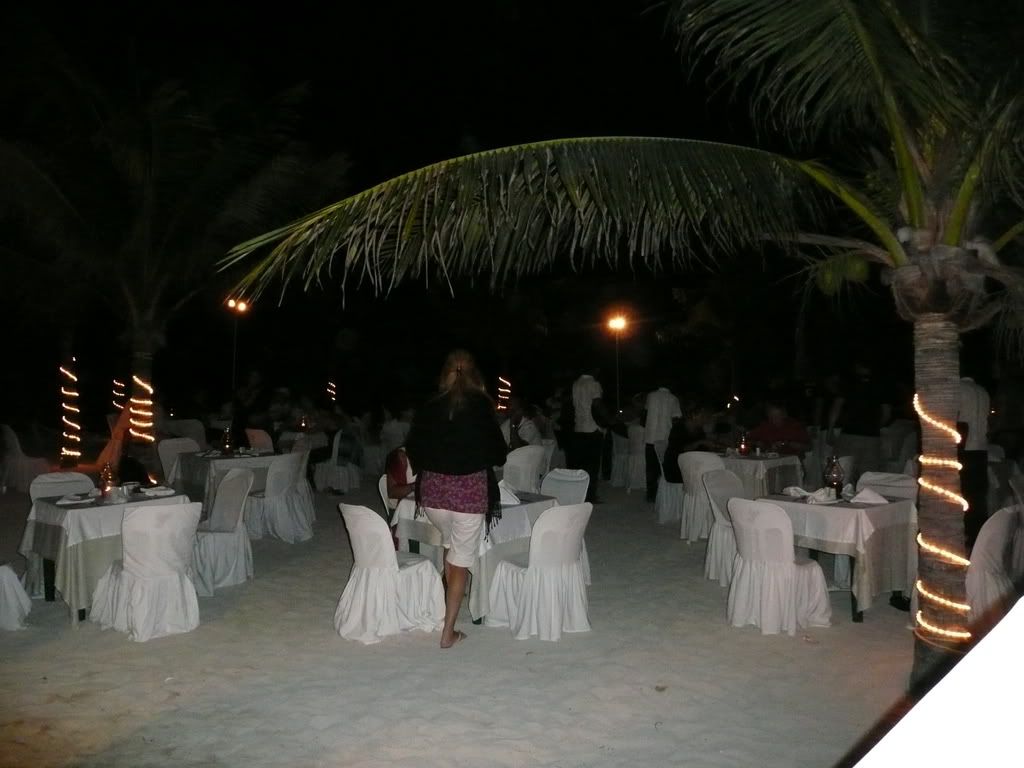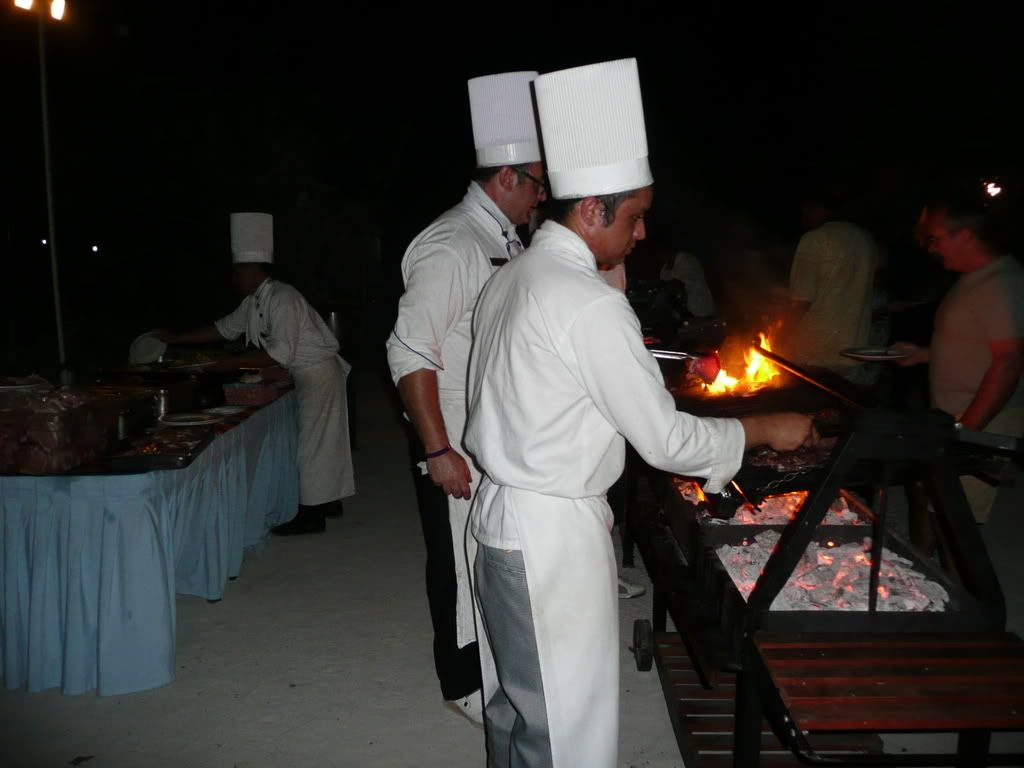 • After supper, went to Colonial to check out show – didn't seem to be our style so we walked through the market – bought a painting from the finger painting man – so cool to watch. Also, spent lots of time watching spray painting artist – so impressive! Found a very nice man who uses a Dremil to carve things into glasses. We got him to make 14 personalized shot glasses, each with all 14 of our names on it, Christmas 2008 Mexico on the other side along with a cute Mexican design. Great souvenir!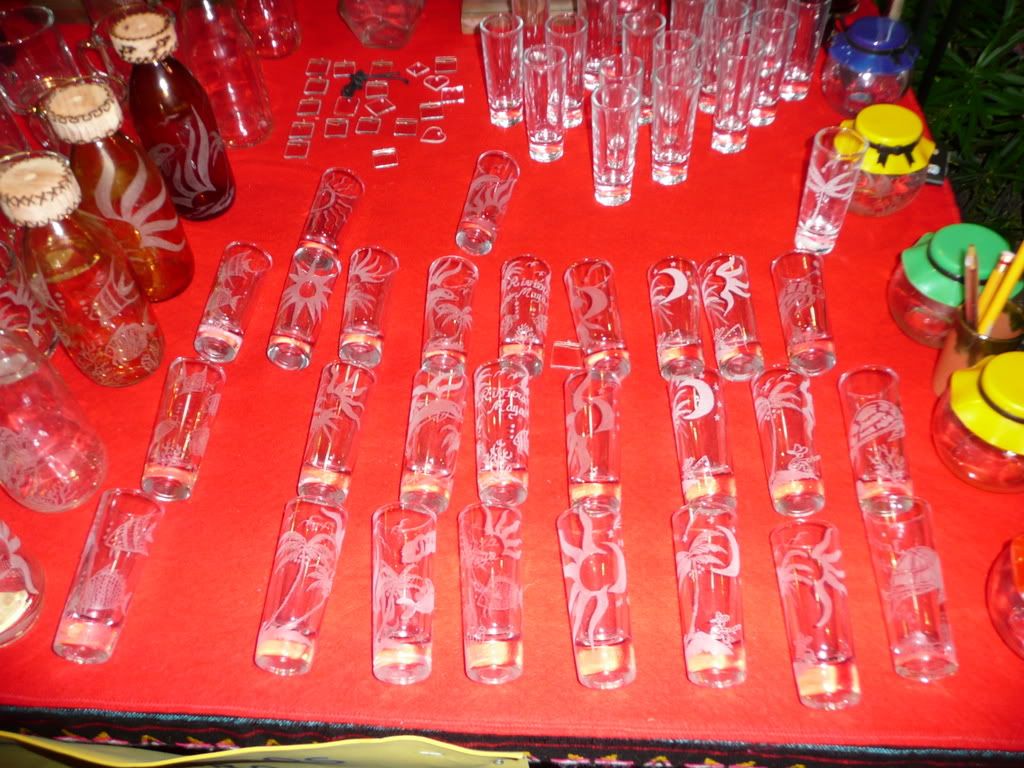 Sat in Colonial lobby and sports bar for quite a while until deciding it was time to call it a night around midnight.

Saturday December 27th

• Started the day at Kantennah beach right in front of roped off Royal area. We managed to get 14 chairs together and some body surfed while others had short snoozes
• It's been very windy every day and as a result, there's been huge waves. I had been looking forward to the Kantenah side because I was thinking it was the best stretch of beach but today, there was lots of seaweed, little dead fish, a big log, etc. on the sand before you hit water and while it had less coral/reef than the White Sand beach, many in our group said they are very glad they had their water shoes as there was still a fair bit of rock formations, etc. to trip on. I think the waves contributed to this problem as you couldn't see the bottom well and didn't know where your next step was taking you.
• After, over to Colonial pool restaurant for lunch – I had a freshly grilled chicken breast burger – awesome! My mother-in-law really liked the grilled Mahi-Mahi
• Then over to Punta Emilia beach area – sand much nicer (like flour) over here today than on the Kantenah side. Right out in front of the water condition flag pole, there's a big patch of dark water. If you walk out, which is quite challenging due to the reef bottom and water shoes are necessary, you will see a large circular reef area surrounded by 100's of fish. It's still very shallow there and a great little place to snorkel. It's the same place we snorkeled a few days ago.
• Came back to room, cleaned up, went to sports area to watch a couple from our group play in the organized soccer game, went to check out the spa – WOW! It's fabulous! Much nicer than any other spa area we've seen in Caribbean resorts.

Seating area in spa.
The spa pool and rounded pool path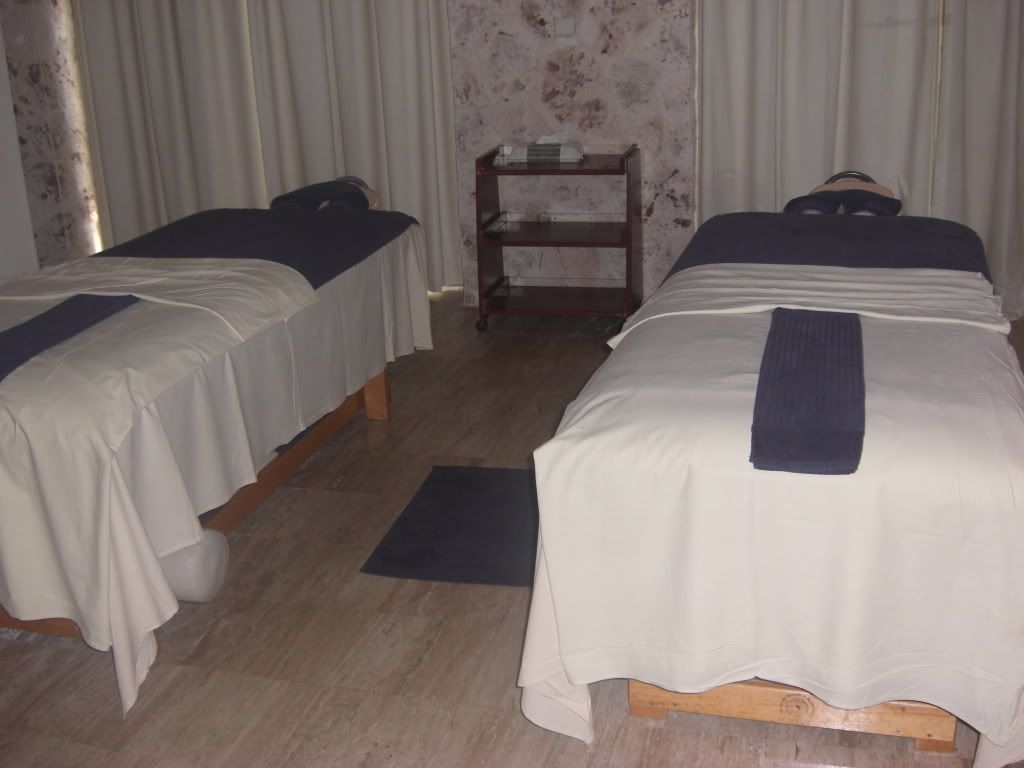 Indoor massage room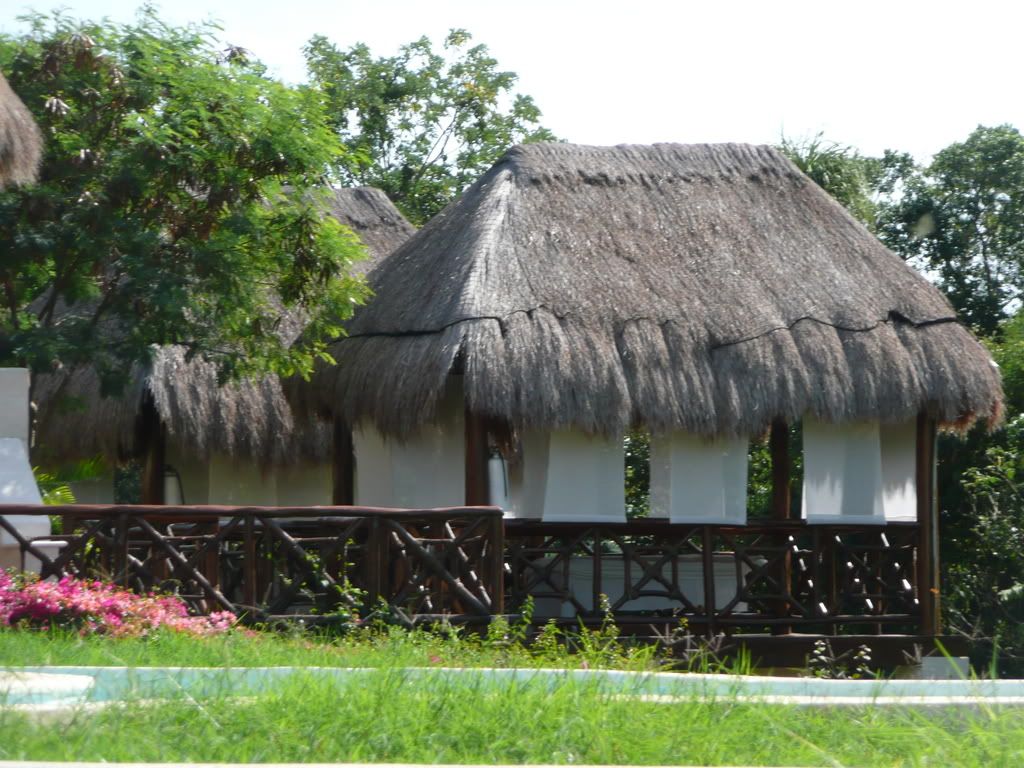 Outside massage area at the spa – In my opinion, much more relaxing location than the massage on the beach or around the main pools.
• Went to El Dorado to pick up beeper at 7:00 – for our group of 14 for 2 tables of 7 we were told it would be 1-1.5 hours. It ended up being just over 1.5 which was okay for us as after we got the beeper, we sat in the Kantenah lobby (Betty was working) and chilled out while making plans for the next few days.
• El Dorado was fabulous – waiters in Wrangler style jeans and western shirts – 2 cute! I loved the cream of Broccoli soup, the guys loved the ribeye steaks, everyone was happy with what they ordered. The desserts looked and tasted awesome! Their attention to detail, presentation and design is very impressive.


• Picked up the rest of our engraved shot glasses – they look fabulous and will be a great souvenir. The man that does it is so nice and genuine – it was great buying from him.
• Another amazing day – off to bed where we will thank our lucky stars that we're staying for two weeks because otherwise we'd be going home tomorrow.

Sunday December 28th

• Great day! Woke up and headed straight to the spa – incredible! So quiet and relaxing. Started in the spa infinity pool and then headed through the curvy river into the area with the warm Jacuzzi's, saunas, steam rooms filled with menthol and the warm pool with what my father in law calls pressure washers!
• I've decided that's an excellent way to start most days.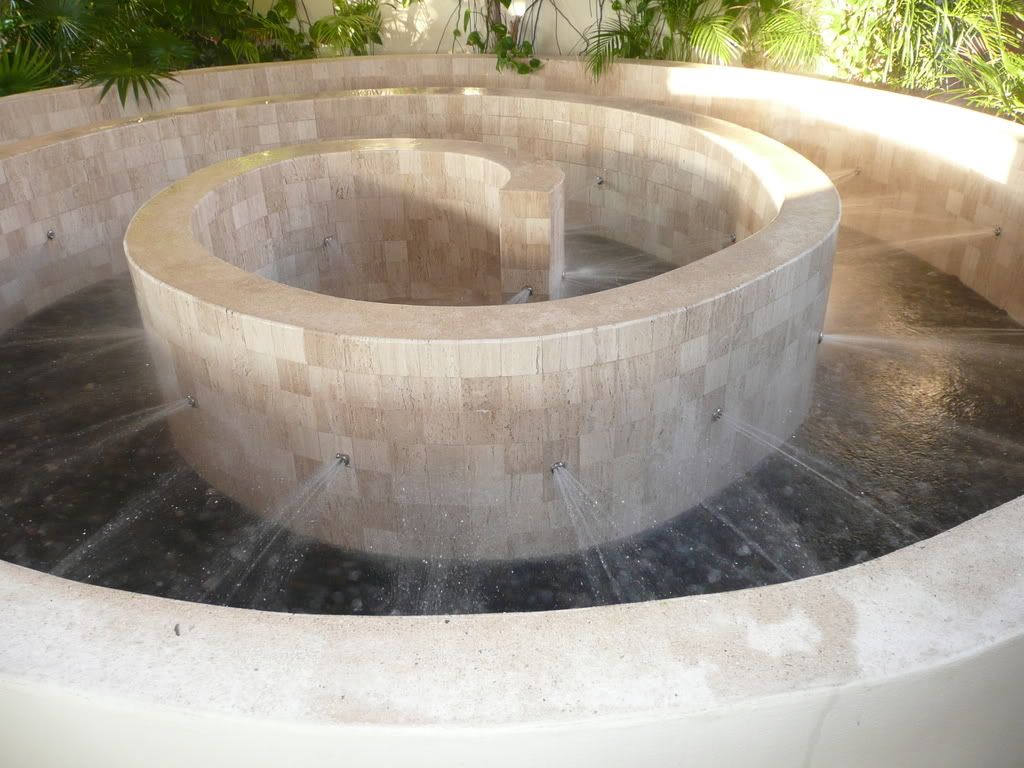 Supposed to rejuvenate your feet if you walk on the stones


The pedicure chairs.
Looking up from the jet pool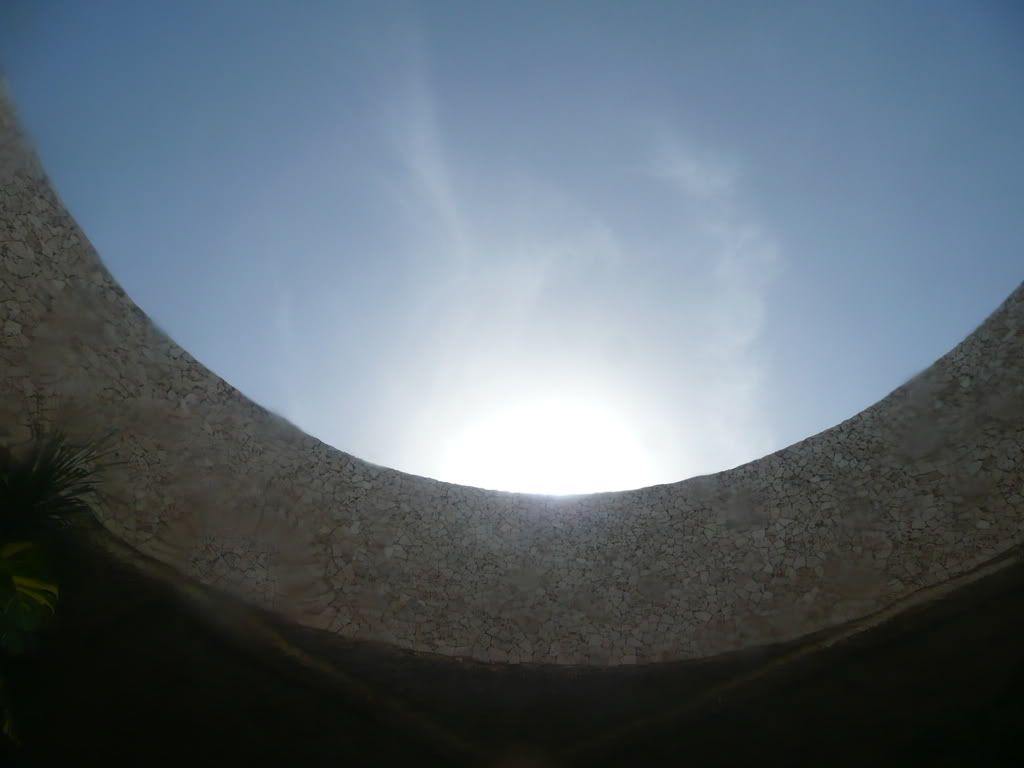 • Went and got cleaned up and ready to meet in the lobby at 1:00 for our group outing to Tulum. We arranged for a van that held all 14 of us at the concierge in the lobby. I think it was $140 US for all 14 of us roundtrip and our driver just waited for us while we took in the sights. It's about a 30 minute drive from the resort.
• Where they drop you off, you can either take a train for $2 return directly to the ruins or walk about 10 minutes. We opted to walk. Got to the ruins (48 pesos to get in) and hired a guide for our group. Another group of 5 from Vancouver joined us. It was $60 US to rent a guide for 19 people. I would strongly recommend getting a guide as they can share so much information about the ruins and the area that you just wouldn't get otherwise.
• The ruins are very nice and on a cliff overlooking the beautiful water. Lots of great photo ops in this area.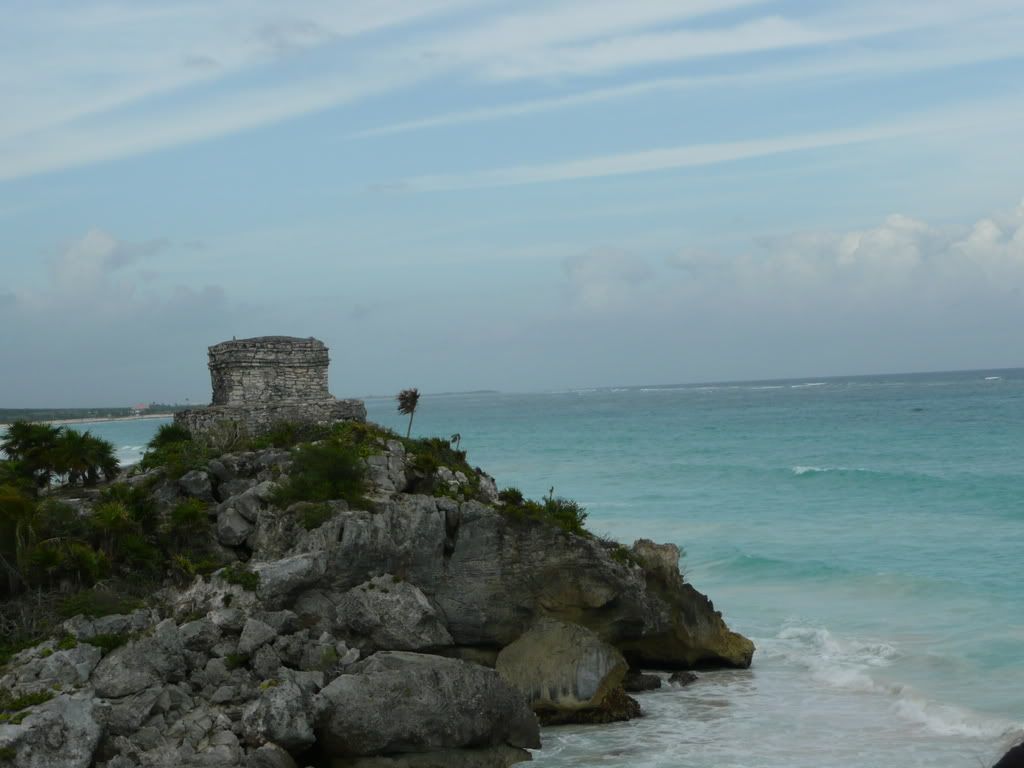 • The beach right below which has what I think are new stairs going down to it was jam packed full of people so we decided to turn left after exiting and headed about 1 km down the road (10-15 minutes walk) to a beautiful beach with really soft sand and a nice sandy bottom. No coral and no need for water shoes. The waves were quite large today still so a bit of body surfing or floating and getting pushed around by the waves was entertaining
• Got back to the van and back to the resort by 6:00
• Our group all split up for eating tonight – we opted for Portofino for supper – it ended up being 5 of us and we were seated outside overlooking the lagoon – an amazing location and the ambience is hard to beat
• We all really enjoyed Portofino – the strawberry ice cream and chocolate cake were 2 desserts to die for. The chocolate cake was unlike anything we'd ever had before but oh so good!


Shrimp and pasta at Portofino's


Amazing chocolate cake that definitely wasn't a normal cake consistency but oh so good!
• After supper over to Kantenah lobby for a while and then off to bed

Monday, December 29th

• Van picked us all up at 8:30 for a daytrip at Xel-Ha ($100 for all 14 round trip)
• 7 from our group had reservations to swim with dolphins so we started there and they loved it!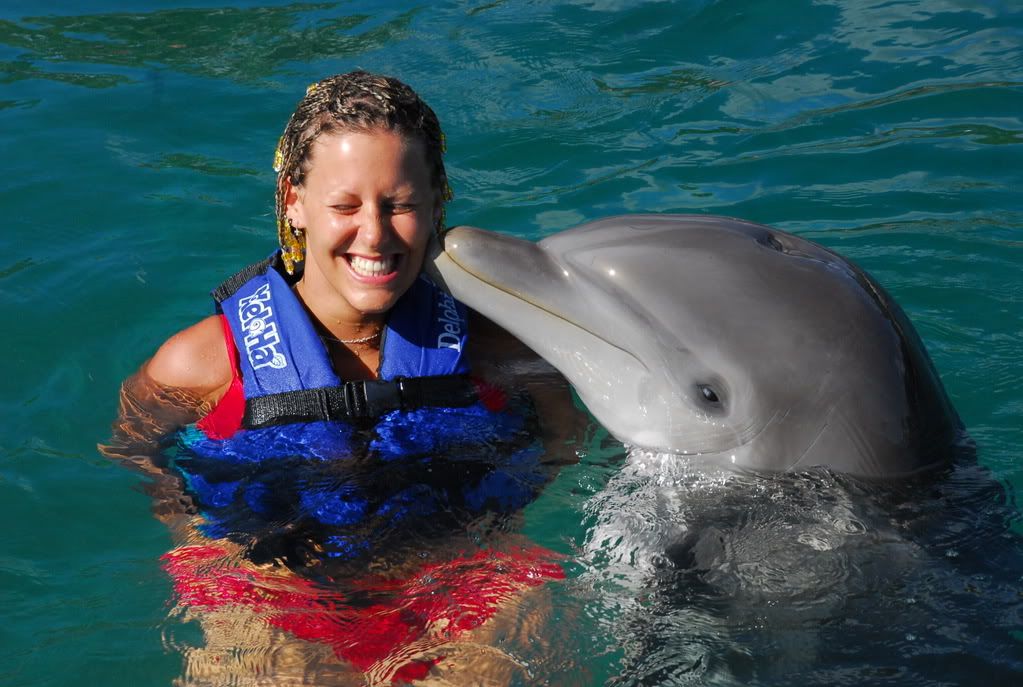 • Then headed to the entrance of the river and floated down on the tubes – certainly not a raging river – definitely some work to get from start to finish but most of us enjoyed it
• Out of the water to pick up our snorkeling gear and my small group spent the rest of the afternoon snorkeling. The best places were around the large rock islands in the middle. The largest fish were underneath the bridge on the far end but they were all the same kind and a little ugly! Still a cool thing to see.
• Others in our group enjoyed the cliff jumping, and walking around checking things out.
• Unfortunately, my husband left his glasses in our locker and during one of his 2 trips back to the locker, he must have knocked them out somehow as they were nowhere to be found when we went back at the end of the day. We checked with all the lost and found locations and no luck. We filed a claim form in case they show up tomorrow but we're not holding our breath. As for Chris, he's not seeing so well right now. Crappy.
• Supper was a bit of a gong show tonight – we went to Ribs n More at about 6:30 – a group of 8 of us were seated within 45 minutes – the other group of 6 ended up having to wait about an hour and a half and then once we got in, service was incredibly slow. The first group didn't get out until 9:00 and the second group didn't get out until 10:15.
• The food was okay – things people enjoyed were the lamb chops, and appetizer stuff (chicken fingers and onion loaf). I'm sure another night would be better but first group left before dessert because service was so slow and overall, we were all really tired tonight so we went to bed right after supper

Tuesday, December 30th, 2008

• Spa day and one of the couple's in our group 25th Wedding Anniversary
• Woke up and after using Skype on our laptop from the lobby, headed into Playa del Carmen ($20 cab ride) to try and find an optical place to make Chris a new pair of glasses
• Started at Walmart optical and ended up going to 4 others but all of them needed at least 1 week to get them. Left to come back to resort.
• A few days ago I ordered the rose petal room decoration through guest services to be done in the anniversary couples room. They were so thrilled with their swans and rose petals. Guest Services does a really nice job of this.




• Went to check out crocodile feeding at 1:00 – man are they lazy! They sure weren't willing to move very far to get their food!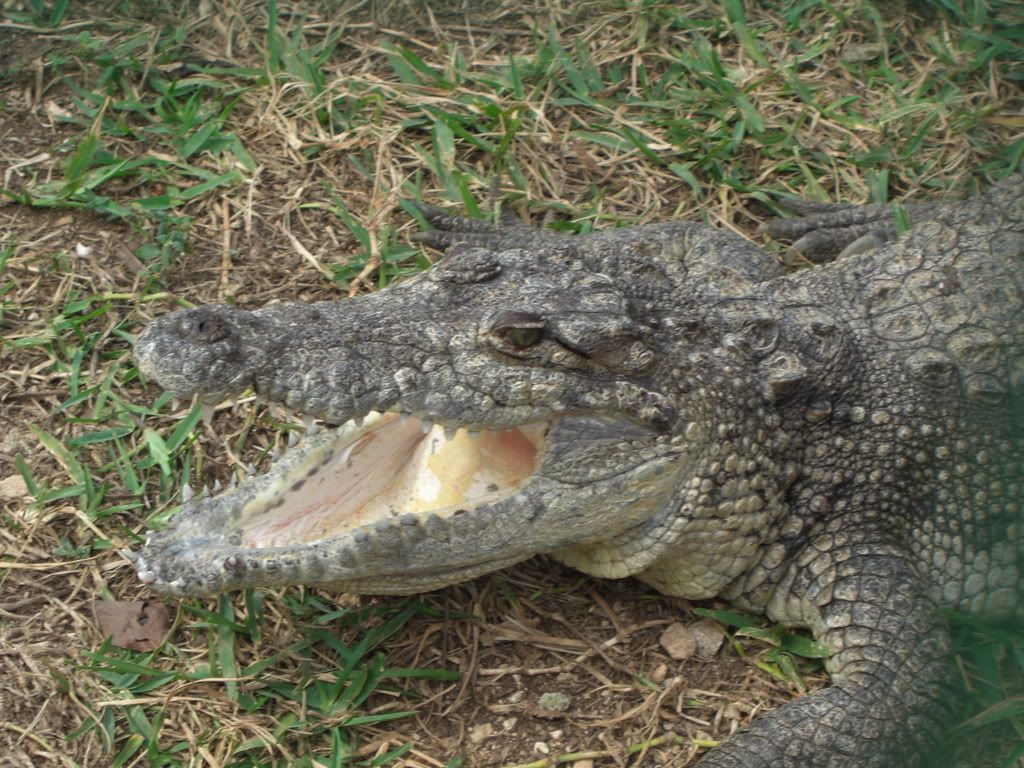 • We decided it was time for our feeding and went to the Colonial main buffet for lunch for the first time – lots of variety and very good.
• Went over to the spa pool for some rest and relaxation before our massages. Is it ever peaceful in there!
• Talked dad and Chris into going for pedicures – got the calluses off their feet and they enjoyed the massage after all the walking we've been doing
• At 3:00, 7 of us went in for a massage. Wow! 3 of us were in little huts outside and it was so amazing. All of us absolutely loved our combination massages (80 minutes).
• After that, off to the room to get ready for supper
• I was able to make a reservation for all 14 of us for the Brazilian restaurant for tonight. For groups of 10 or more, you can make reservations but you all have to agree to eat the same thing. Fortunately, everyone does eat the same thing at the Brazilian restaurant just because of the way it's set up, so they were able to do it for us. From the moment we arrived there, everything was absolutely perfect.
• The waiters come around with large skewers with different kinds of meet on them. The meats included lamb, chicken wings, beef brisket, beef tenderloin, rabbit, turkey, and sausage. At the beginning of the meal they give you two cards, a green one and a red one. If the green card is showing, they keep bringing out meats. When your group is done, you can flip the card to the red side and they will stop bringing the meats out.


• The service was amazing, everybody said the meat was fantastic and my favourite guest services lady did a fabulous job making it so incredibly special for the anniversary. I had ordered a cake to be delivered to the table after supper and when they brought it out, the mariachi band played for us and about 8 staff members surrounded our table to get in on the celebrations – it was such a special moment.
• We had great fun dancing around the table with each other and with the staff while listening to the great music – everything was so awesome. Sorry to anyone around us that was trying to have a quiet supper!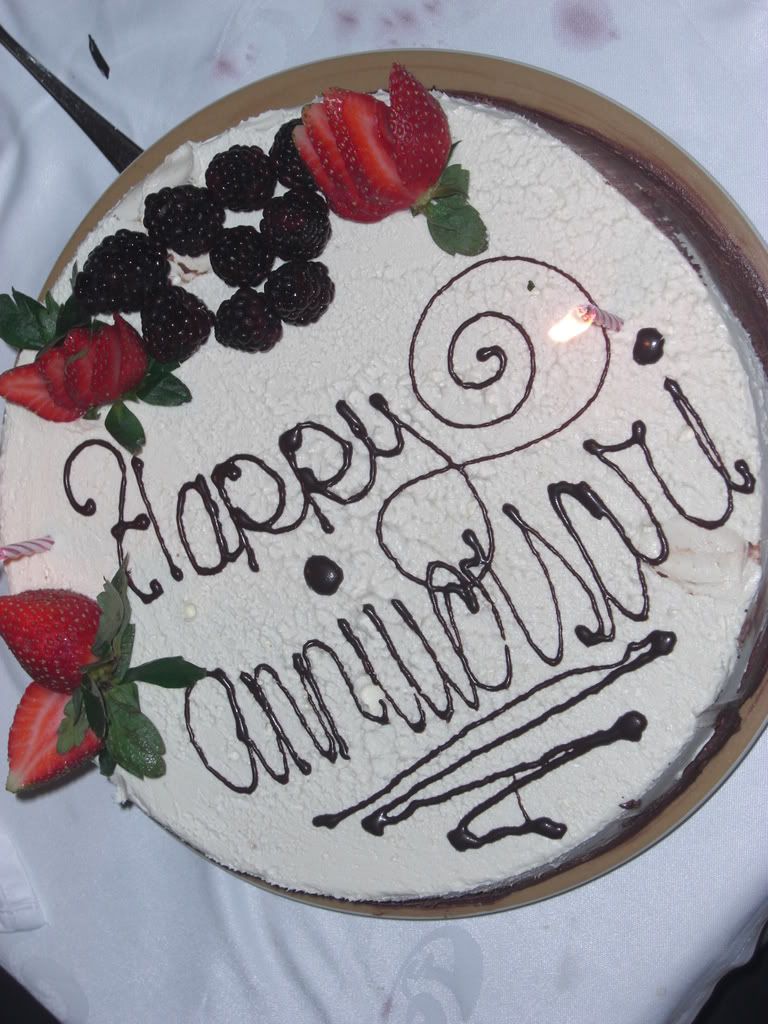 • We then moved to the lobby for more fun, dancing, and shooters.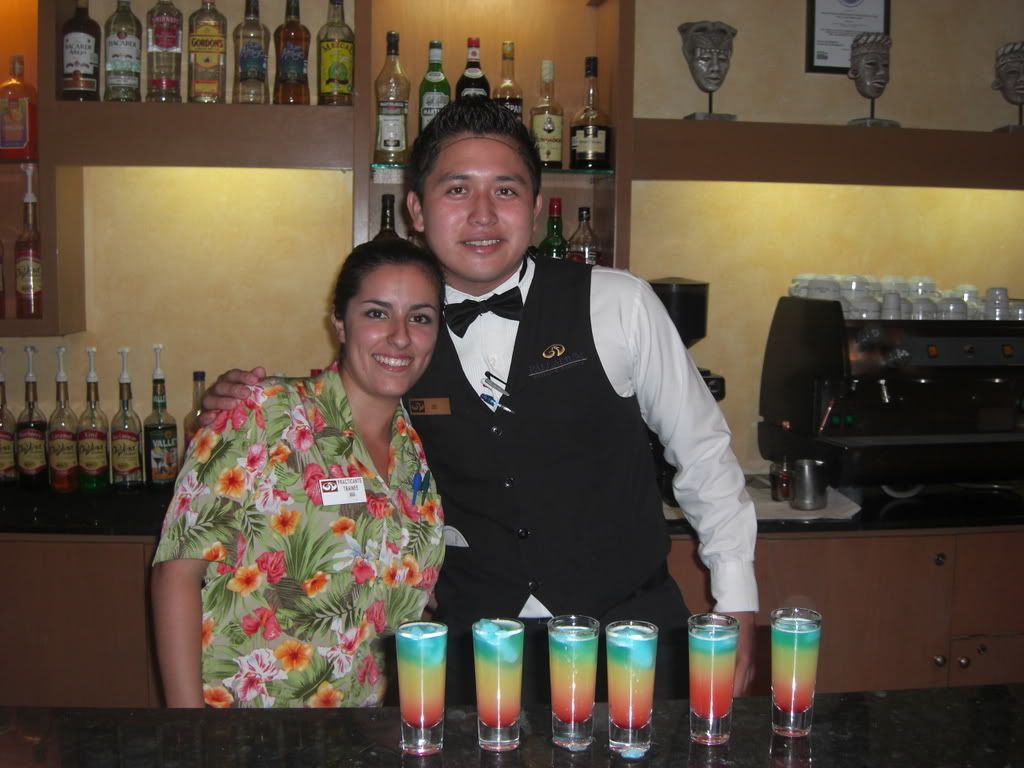 • What a great night – off to bed at about 11:30.


Wednesday, Dec.31st

• Tried to go to White Sands buffet for breakfast but we didn't end up getting there until 11:02, 2 minutes after they locked the doors. Oh well, we'll wait for lunch.
• Most of our group was already at White Sands pool by the time we got there – they were either relaxing on the loungers or playing a bean bag toss game
• We spent some time at the swim up bar which was awesome despite the fact that someone in the group thought it would be great to order a round of tequila shots – great way to start the day off – Only in Mexico!
• Played water volleyball for quite a while – lots of fun
• I went to get my hair rebeaded with different colours at the bottom – went from green and red to black and silver
• Dad played bingo and won! His little raccoon certificate was SO cute and he could take it and trade it in for a bottle of tequila or a t-shirt – he opted for the tequila! Surprise, surprise!
• Tried to have a siesta by the pool but this was probably our chilliest day – still 27 degrees I think but cloudy and with a wet bathing suit on, I was a little chilly
• Went back to room at about 4:00 for a little siesta before the big night ahead
• Had reservations at the New Year's buffet for 7:00 – again, very nice – champagne and rose as you entered, and 2009 ice sculpture at front door. Another amazing buffet complete with lobster, turkey, etc. People came around to hand out hats, noisemakers, Leigh's for New Year's – nice touch.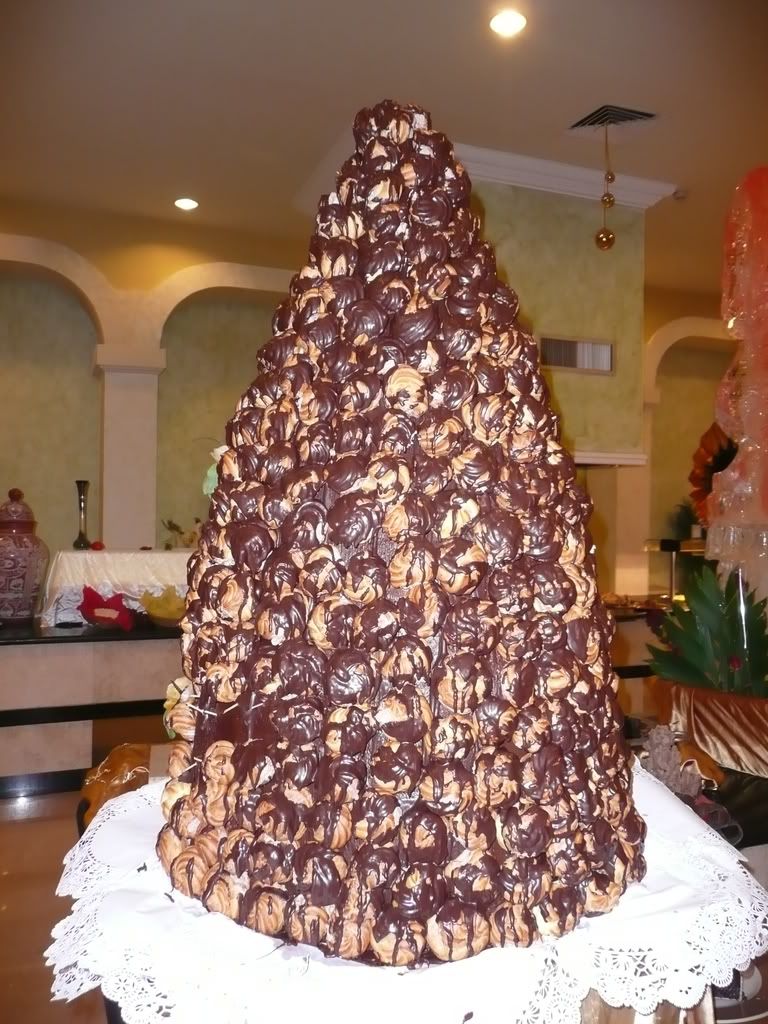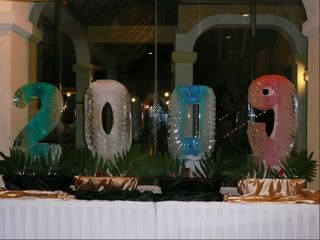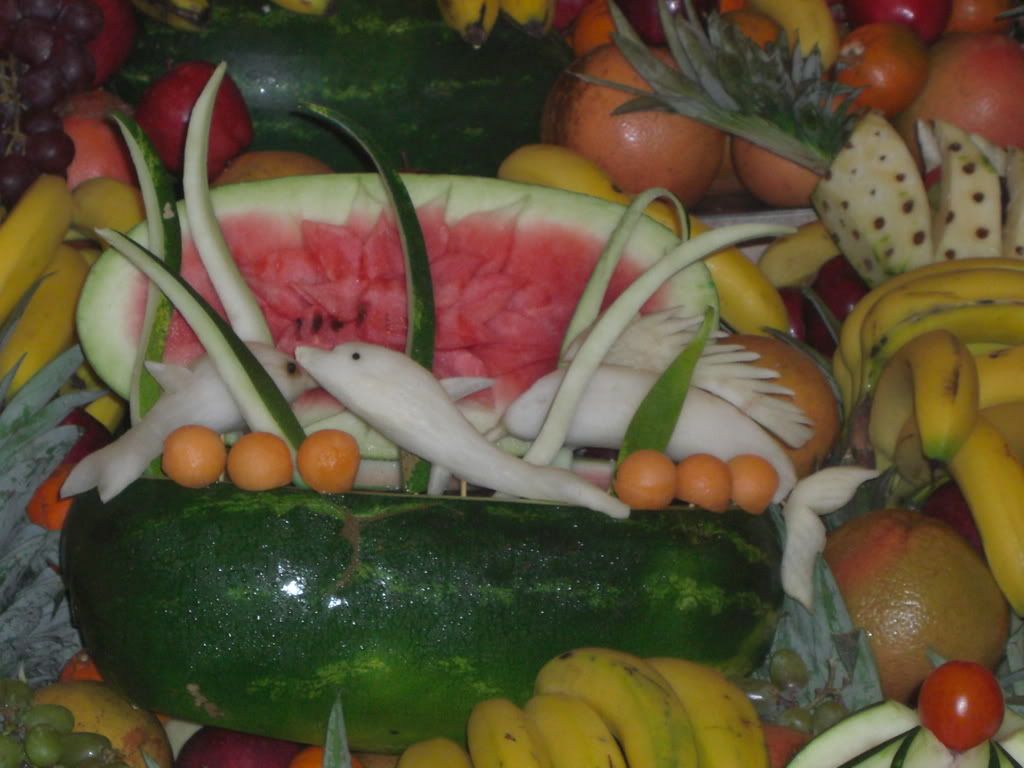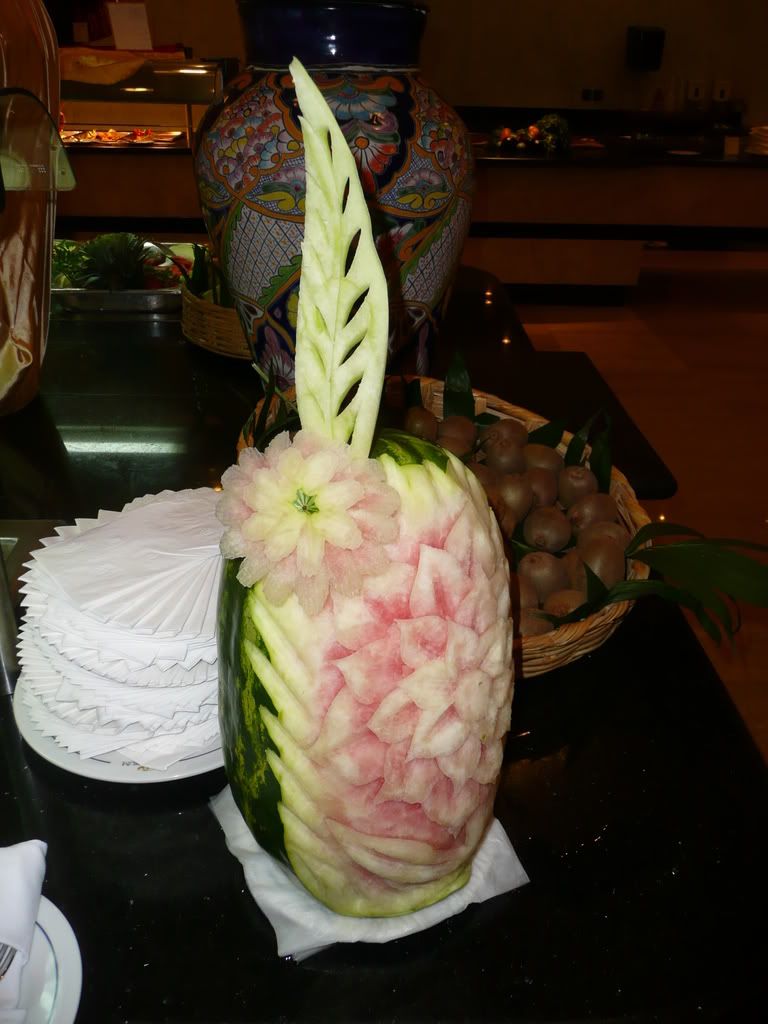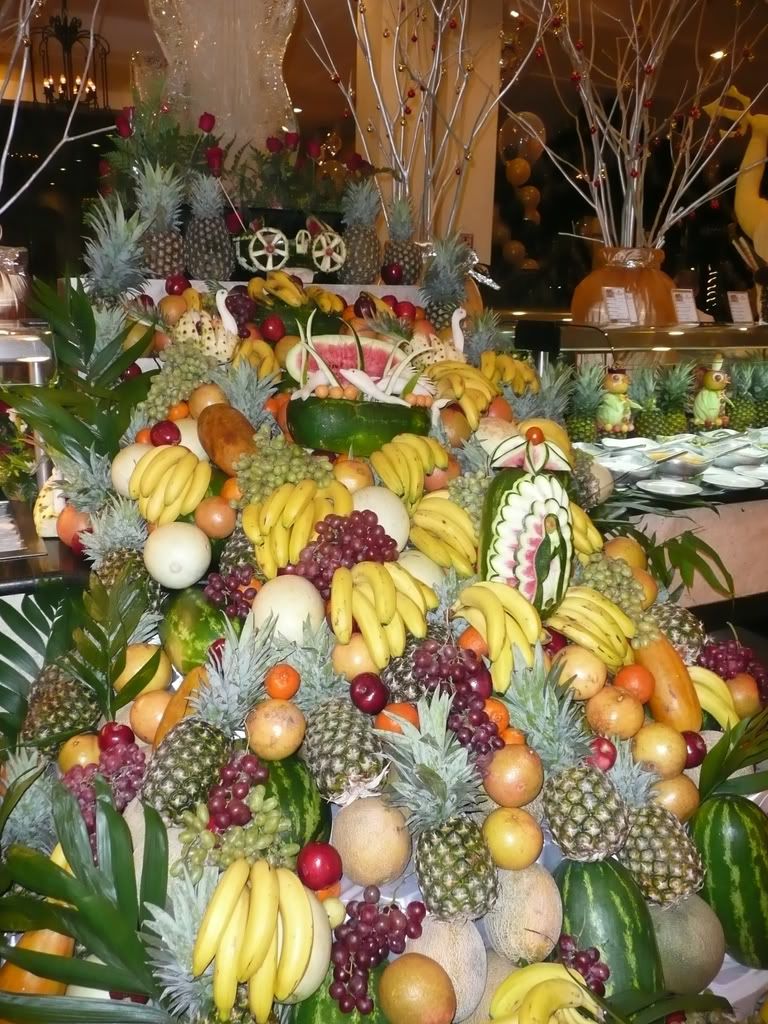 • After supper, headed to White Sand lobby for a short time and then over to Riviera lobby as that is where the party was supposed to be. The ice breaker game at the theatre consisted of famous people and landmarks coming up on a screen and people running up to a chair on stage to identify them for a token. A couple people made it their mission to try to get up on stage every single time.
• The show following that was okay – singing and dancing but we had to leave as it was way too loud. Others in our group that were sitting in different locations in the theatre thought the same thing. We saw numerous people plugging their ears.
• Our group kind of hit a bit of a wall tonight – everybody was exhausted and just trying to stay awake until midnight
• At 11:55, a clock on a screen in the lobby started counting down. People started gathering their champagne and grapes (a Mexican tradition) – at 10 seconds people started chanting down – cheering and kissing ensued and then most were off to bed!
• Chris and I walked over to the disco to check it out for a while. Pretty good party going on over there – music, dancing, drinking and balloon popping! Back in our room at about 12:45 – Happy New Year!

Thursday January 1st

• Slept in and went to White Sands for breakfast – very similar to Kantenah and Colonial
• Everything was really busy and crowded today – a lot more people than normal – maybe fewer out on excursions as it's a holiday or more buying day passes and just visiting
• Laid on the beach for a couple hours before heading over to Florenzo's art stand – picked out a wall plaque to paint and was joined by a few members in our group.
• I'm not usually an artsy person but painting there right by the ocean was amazing. We all really enjoyed ourselves. Once you're done, he takes them home to do detailing and glazing of them. Make sure you have a good chunk of time to allocate as it took all of us much longer than we expected. However, if you want to, you can work on it a bit each day and he'll just hold on to it for you until you're done.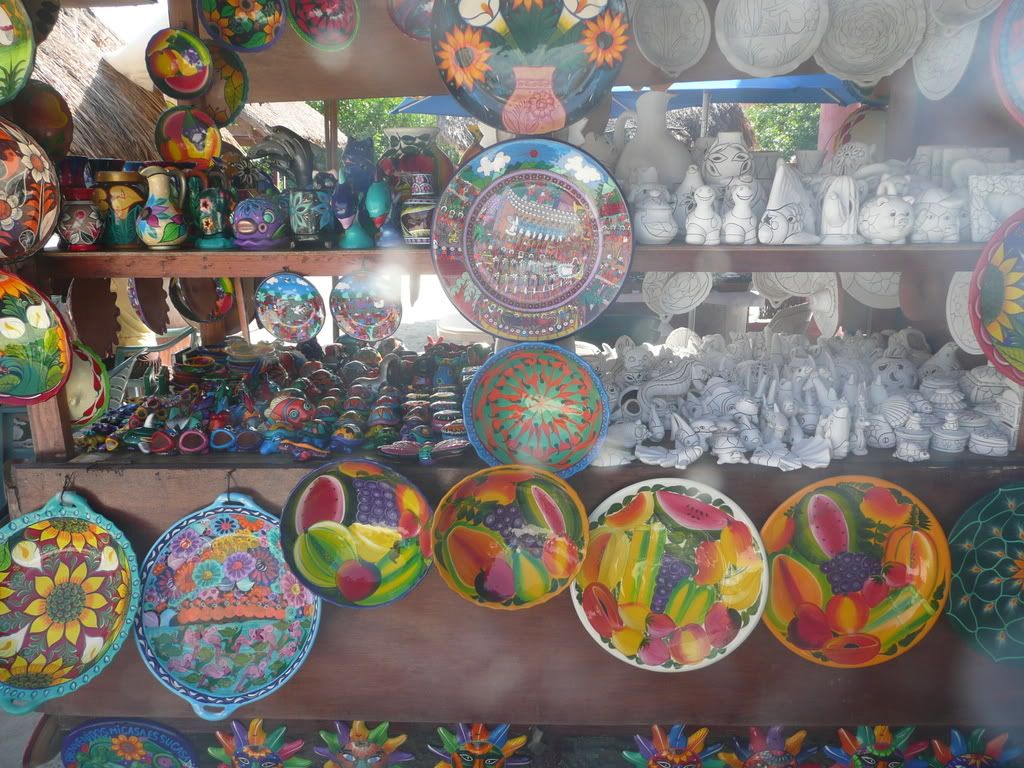 • Several from our group took in an ATV ziplining trip today. They all really enjoyed it; they organized it through one of the lobby representatives and they got more out of experiencing "Real" Mexico than any of the activities. They went to a Mexican farm and met a Mexican family, swam in a cenote, etc.
• After painting, a few of us went to the Spa – was it ever busy. Actually, the entire resort seemed incredibly busy today – the first time we had to spend time finding chairs at the beach. We took in the jet pool area, the sauna, steam room, and Jacuzzi before heading back to our room to get ready for supper.
• 3 of us went to Mare Norstrum tonight and the rest went to the buffet. We probably wouldn't return to Mare Norstrum soon – there are much better options out there
• Hung out in Kantenah lobby again

Friday, Jan. 2nd

• Woke up all excited to pick up our art pieces – so impressed with the results that after spending a bit of time on the beach we decided to do a couple more pieces, joined by other members of the group today.

My painted wall plaque after I was done with it.

My wall plaque when Florenzio was done with it!!! He's phenomenal!
• Art stand very busy again – people were waiting for a chair to open up all day long
• Took the golf cart villa train to Punta Emilia because it takes you through the Royal area and around so it was cool to see that part of the resort
• Decided to tour the adult pools today – started out at the one right across the bridge from White Sands pool – very nice, a couple double concrete loungers in the pool under palapas – nice touch.


• Then went to Secret pool – of course, we had to sample the bars several times at each of the pools!
• Went to Bamboo restaurant for supper tonight – Chinese – Overall pretty good. We were seated at a table that is cut out into the ground and it was very interesting to get in and out of. Very cool to look at – not so fabulous to sit at.
• We had a bit of a communication barrier – tried to order one of each of the main menu items so we could all share but that message didn't get across. Ended up getting some meals eventually – the sweet and sour prawns were very good.

Saturday January 3rd, 2009
• 8 people in the group went deep sea fishing today – they got picked up at 8:15 from the resort and taken to Puerto Aventuras. It was $500 for up to 10 fishers with round trip transportation. It wasn't a great experience. The water was very rough and 1 got sick with 3 others coming very close. On top of that, they only caught 1 small barracuda the whole time they were out.
• We stayed at the resort – spent some time at the beach, then at the spa, then at Colonial pool, then at El Riconcito pool – we were really trying to make our rounds knowing that it was our last day.
• Discovered the lemonade – too bad it's our last day – so good – refreshing lemonade!!
• Hung out in the lobby for a while enjoying Caribbean sunset drinks and headed to the Buffet for supper. It was Asian night which was very good – man, do the buffets ever have a wide selection – impressive!
• Decided to check out tonight as we leave tomorrow morning at 8:30 and thought there might be a line. To check out, all we needed was 1 room key and our 2 towel cards
• Went for one last walk around after packing, packing, packing and getting ready for bed – early, sad morning tomorrow.

Sunday January 4th, 2009

• Day to go home - 
• Bus was coming to pick us up at 8:30 so we didn't have much time to do anything today.
• We took our luggage down to the lobby, went for a bit of breakfast and then sat in the lobby waiting for the bus
• Bus was a bit late arriving but that was okay because upon checking in at the airport, we were informed that our flight was going to be delayed 2 hours. Not a big deal but when asking if they knew why, we were informed that our plane was flying out of Saskatchewan to come get us and the de-icing fluid only works up to -35 Celsius and this morning it was -39 back home – awesome! Westjet was nice enough to give us a $10 meal voucher per person for the inconvenience.
• One thing I found very interesting was for travelers flying from Cancun to Canada, there was no limit to liquid going through security – the lady in front of us plopped a 4 liter jug of orange juice on the conveyer belt and had no issues so if you want to take vanilla, booze, etc. in your carry on and you're flying into Canada, I don't think you'll have any troubles. The other option is to purchase that stuff in the duty free stores.
• I was fairly impressed with the shopping options at the airport – we bought some duty free alcohol, and I found some great silver jewelry.
• One of the other cool things about the airport was that they have a spa. If you're waiting for a couple hours, getting a manicure, pedicure or massage seems like a nice way to spend the time.
• As it turned out, we went from +32 to -32 in a span of a few hours. Ouch. Flight was pretty good but I wish we could have stayed even longer. The Grand Palladium was fabulous!

Overall thoughts from the 2 weeks (Dec.21, 2008 to Jan.4, 2009)
o We were SO lucky to have such fabulous weather – we only had about 10 minutes of rain one evening and the weather was about 30° on average everyday
o This was a great resort complex – great pools, great food, great spa, many great staff members!
o The attention to detail around the resort was very impressive
o The Christmas Eve and New Year's Eve Gala Dinners were so incredibly impressive with beautiful ice sculptures and carved fruit
o I would definitely go back to Akumal and Yal-ku lagoon for the turtles and snorkeling
o There is so much to do at the resort if you want to: on our 2nd to last day, we went to two pools that we hadn't previously spent any time at – we hardly had an opportunity to get tired of any areas as the resort is so large that you can go to different areas every day if you want to
o The beach was very large and long – I must say it wasn't as nice as many of the beaches at other resorts/places we've been to but that may have been partly due to the wind as it was a yellow or red flag every day. You definitely need water shoes when entering the water in most sections of the beach.
o If/when we go again, I would want to stay in the White Sand area of the resort – I think it had a better, more central location, definitely compared to the Kantenah and I liked the pool better because it was not as deep as the Colonial pool, which was very deep (not deep enough to dive but most people would have to walk on their tippytoes)
o Taking bubba mugs was definitely awesome! They came in so handy and were great to have around the pool and beach, keeping drinks cold and keeping sand, bugs, etc. out. One thing I would definitely do next time is take a little bit of dish soap with me as, after 2 weeks, with all different kinds of beverages in it, even after rinsing it out on a regular basis, a bit of soap would have probably been a good thing!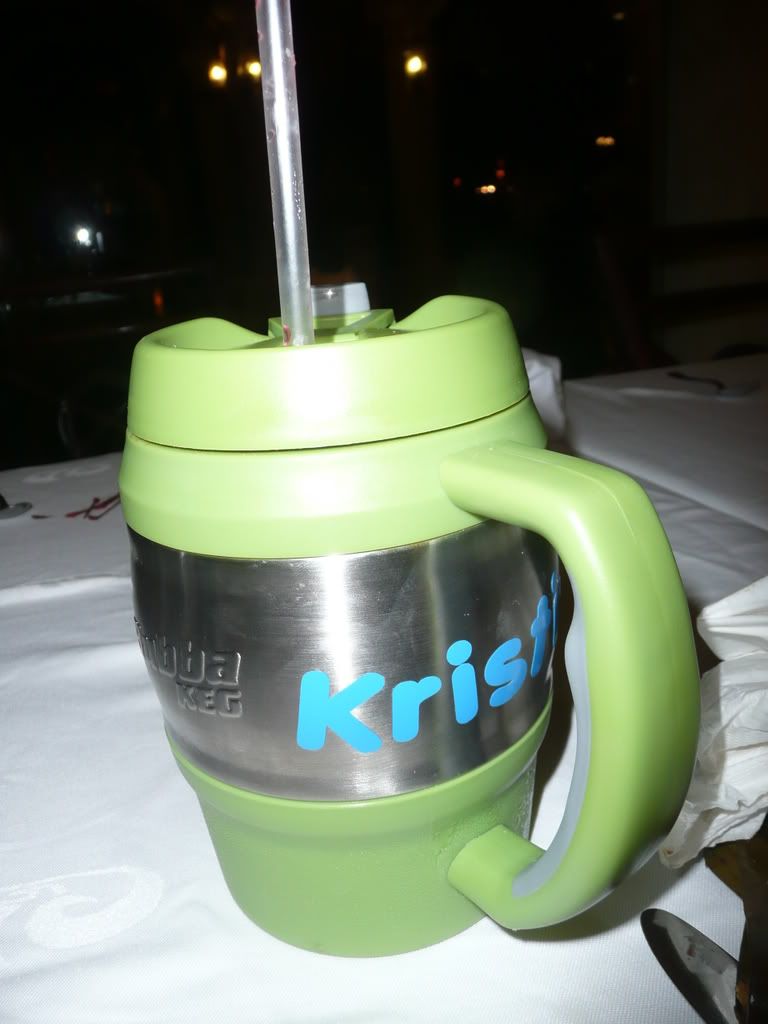 o Another handy thing to have is a beach bag called "The Itsa" – I first saw them in a display at the Calgary Stampede – I didn't buy them at the time but thought about them several times afterwards so I eventually placed an order for several of them that we gave out as gifts. They are so cool and so handy to have on tropical trips. They are chair covers with pockets so you have a place to put all of your things and then you roll them up into a bag. They're made of towel material so you can use them as towels as well – all in all, they are so awesome to have. http://www.itsabag.net/default.asp


o The spa area was fabulous! We took advantage of the free areas and we also got massages which were fabulous!
o I strongly recommend to those with long hair that you get your hair braided. It's so nice being able to jump in and out of the water and not have to worry about your hair. Also, it allows you to spend more time enjoying the resort and less time in your room getting ready.
o Painting at Florencio's was such an awesome way to pass some time. Next time, I think I would paint for an hour or so most mornings, leaving my pieces with him each day until I finish. He does such an awesome job fixing them up, making them look very professional and so impressive! He's also such a nice, happy man.
o Some of the men expected the sports bar to be more focused on watching sports than on playing pool, foosball, etc. Comparing it to other ones we've been to, it's the way most are set up but was actually nicer and larger
o The lemonade which we discovered on our last day was very good and a nice, little break from alcohol!
o Towel animals were very much hit and miss – some people in our group got several…others only got one on 2 of the 14 nights. Tipping amounts did not seem to make a difference.



o With that being said, we made sure to always have tip money on us and as a group, spent a lot of money of tips over the course of our vacation – I don't think it had an effect on service but I know it was appreciated and certainly made me feel better as I know their wages from the resort are limited.
o I'm sure it varies from week to week depending on the guests that are at the resort but there was a lot more topless sunbathing at the beach then we've ever seen before at other resorts
o Overall, our group of 14 decided our favorite restaurants were: El Dorado Steak house, Portofino Italian restaurant, Sumptori Japanese restaurant and El Rodizio Brazillian restaurant.
o Suggestions for improvement:
 Drink service at the beach and pool – I know they have it at the Royal area but it's a nice touch for all.
 Better descriptions of the contents of food in the buffets
 Overall, we were very impressed with the service. However, one thing I noticed was that not all staff members had a good feel for the locations of everything around the resort. That was a little different for us because at most resorts, I've found that you could pretty much ask anyone and they would be able to answer your questions. I was thinking it's possible that the reason behind this was because they maybe had more temp staff on to cover the large number of guests during these two high occupancy weeks.

Would I go back and would I recommend this resort to friends: Absolutely!

A good time was definitely had by all. Thank you to everyone for all of your thoughts, advice and information. This site is fabulous!

Some other random pictures from around the resort – if you're looking for a picture of something, don't hesitate to ask – I took over 3000 pictures so I just might have one of something you're looking for.

POOLS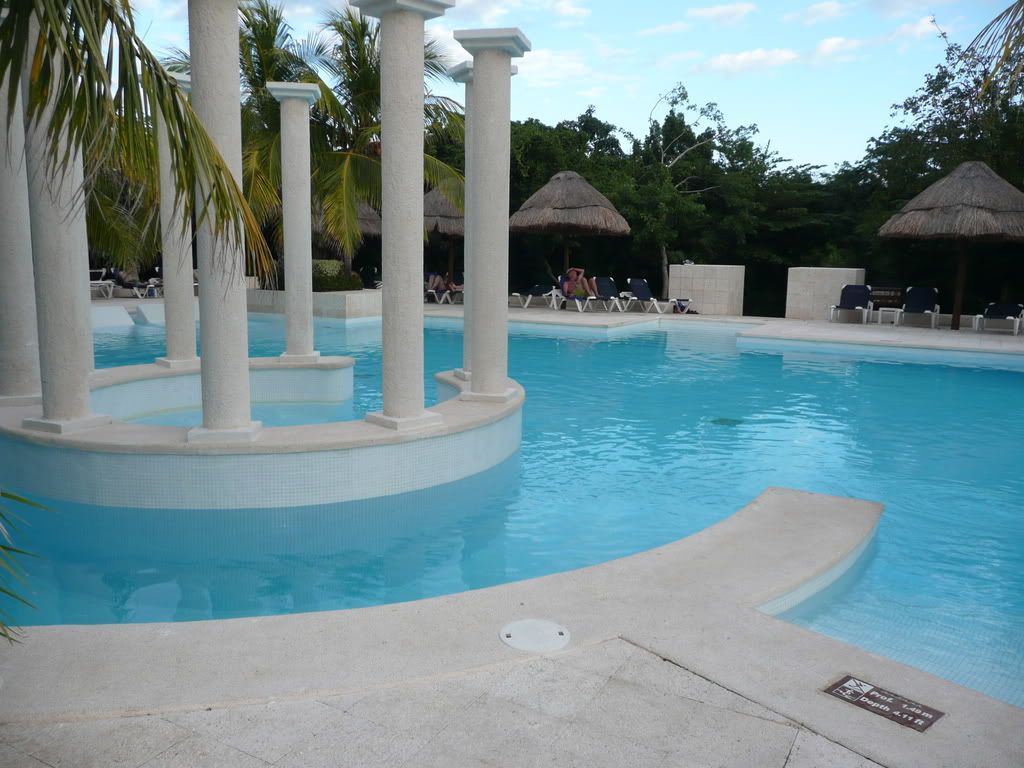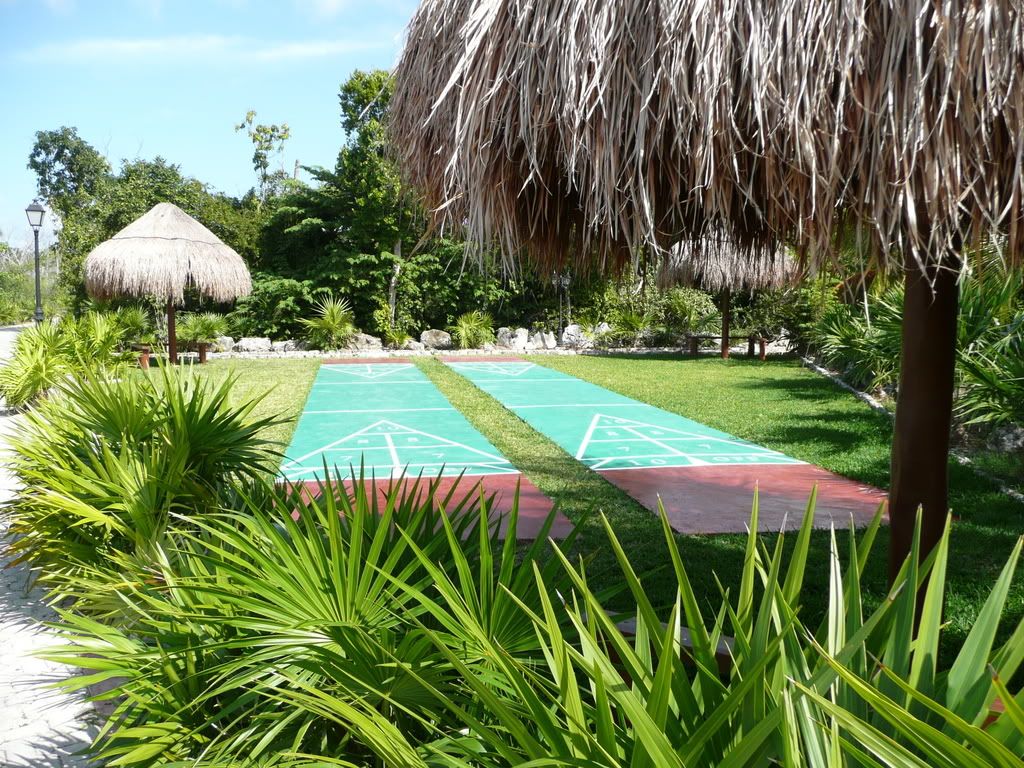 INTERNET SHOP
TAME RACCOONS AT PUNTA EMILIA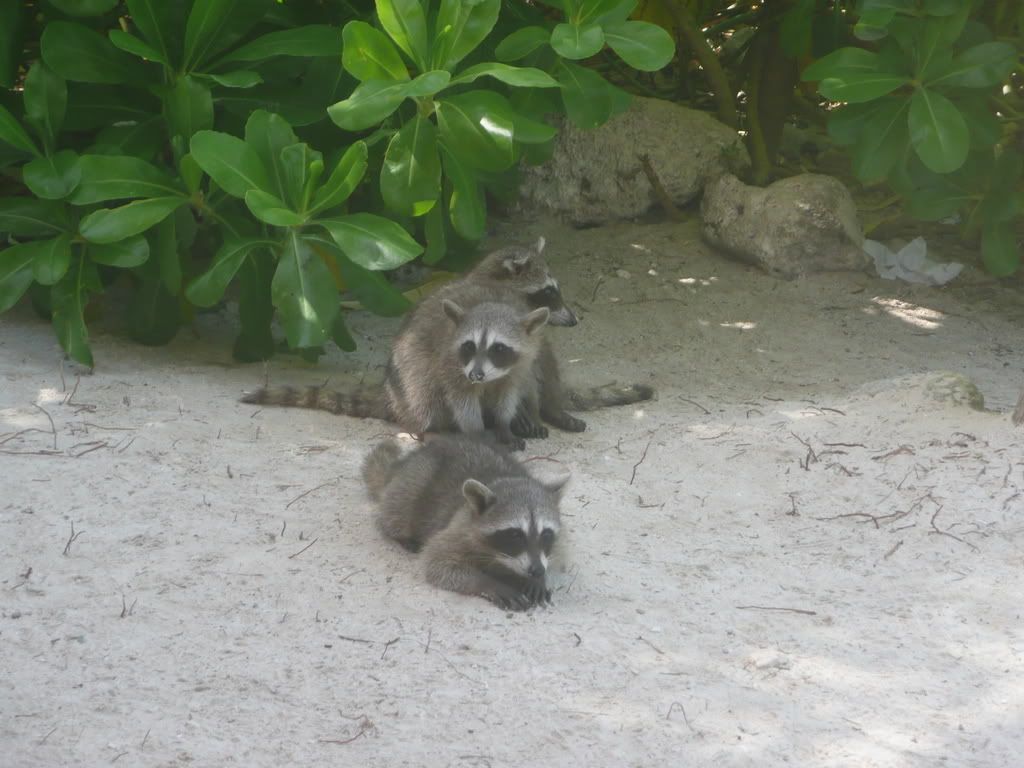 TYPICAL PATH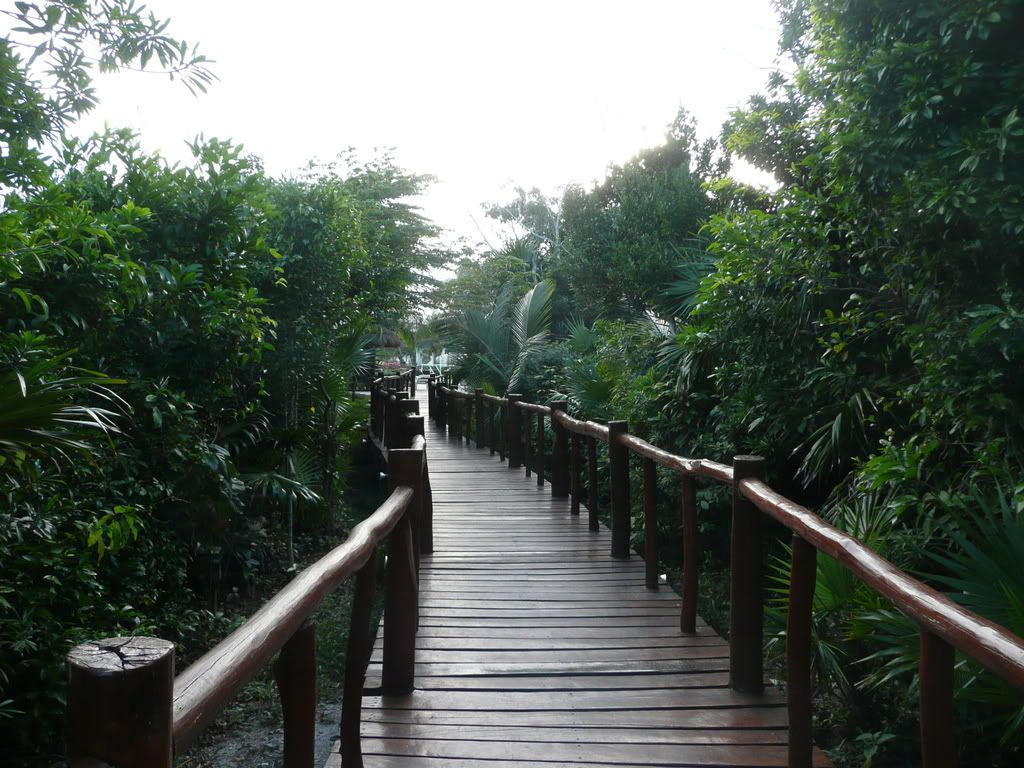 For those of you who managed to stay in there for this whole report, I hope you enjoyed it. I will try to answer any questions you may have.

Kristin